Gates Is Part of a $275 Million Investment in Ginkgo Bioworks, an Organism Engineering Startup

Ginkgo Bioworks Is Now a Financial 'Unicorn' Valued at $1 Billion

Bayer and Ginkgo Bioworks Joint Venture, Named Joyn Bio, Aims for Self-Fertilizing Plants
Bill Gates in 2015. Credit: Frederick Legrand
Imagine founding a company so successful that it skyrockets your net worth to nearly $100 billion, making you one of the wealthiest people on the planet. Now think hard about how you would use a sizeable portion of that money to make the world a better place. This is Bill Gates' reality. Alongside his wife, the Microsoft founder launched the Bill & Melinda Gates Foundation in 2000. Holding $38 billion in assets, it is the largest private foundation in the US. The primary aims of the foundation are, globally, to enhance healthcare and reduce extreme poverty, and in America, to expand educational opportunities and access to information technology.
The Gates support a wide variety of remarkable projects that strive to make the world a better place, both now and in the future. Over the years, I have read about some of their foundation's health-related programs, notably, those focused on accelerating the eradication of malaria, and those supporting research on bettering afflicted people living in extreme poverty. These laudable efforts are, however, rather different from the Gates' recent investment in Ginkgo Bioworks, a "hot" start-up company that "prints DNA," and the focus of this blog.
Backstory on Ginkgo Bioworks
In a nutshell, Ginkgo Bioworks is a Boston-based biotech company founded by MIT scientists in 2009. The company uses genetic engineering to produce bacteria with industrial applications. If you're familiar with the history of genetic engineering, repurposing bacteria for "industrial applications" is not a new idea, as there are hundreds of publications going back to 1985—1990 that can be perused later at this link.
Artistic rendition of the concept of genetic engineering. Credit vchal
However, Ginkgo Bioworks (aka Ginkgo) is adopting new state-of-the-art technologies in its deals with established leaders in bioindustrial fermentation. These technologies help improve the efficiency of the microbial strains that power their processes. For example, high-throughput strain improvement by Ginkgo, partnered with global companies Ajinomoto and Cargill, involved the design and testing of more than 1,700 rationally engineered plasmids, accounting for 2,400,000 base pairs of synthetic DNA produced by Twist Bioscience and Ginkgo's biological fabrication (BIOFAB) platform—all in only 10 months!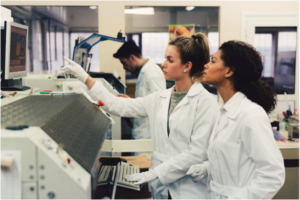 Ginkgo's Bioworks uses large-space factory-like labs loaded with robotic equipment akin to this. Credit martin-dm
Twist technology uses small-scale high-density DNA synthesis ("printing") on silicon, and in 2015 Twist agreed to supply Ginkgo with 100,000,000 base pairs of DNA, which was speculated to be ~10% of the total capacity of synthetic DNA worldwide. Two years later, Ginkgo acquired Gen9, a DNA synthesis company founded by George Church, who I have described as "the most interesting scientist in the world" in one of my previous blogs. An in-depth account of this Ginkgo-Gen9 union can be read at this link.
Ginkgo Bioworks uses a so-called "foundry" to automate every step of strain engineering, from DNA synthesis using the BIOFAB platform through molecular biology, high throughput analytics, and small-scale fermentation. You can watch an informative video of a TV interview and "walk-through" of Ginkgo's Bioworks here.
Ginkgo Bioworks Is Now a Unicorn
In 2014, Ginkgo was the first biotech company to ever be accepted by Y Combinator—a now renown Silicon Valley venture capital "seed accelerator." Since then, Ginkgo has raised $429 million, which includes $275 million in funding from Bill Gates' Cascade Investment and others. This reportedly makes Ginkgo now worth $1 billion. This lofty valuation also makes the company a "unicorn" in finance-speak, whereby a unicorn is a privately held startup company valued at over $1 billion. Venture capitalist Aileen Lee coined the often-used Silicon Valley term unicorn in a TechCrunch article: "Welcome to The Unicorn Club: Learning from Billion-Dollar Startups" as profiled in a New York Times article…but I digress.
Bayer + Ginkgo Bioworks = Joyn Bio
Last September, Bayer, a global agricultural giant, announced that it would work with Ginkgo Bioworks to create a new company focused on the plant microbiome. Improving microbes' ability to make nitrogen fertilizer available for plants offers a major potential benefit to sustainable agriculture, as it provides a more eco-friendly option relative to the use of conventional chemical fertilizers. The $100 million deal will involve Bayer's West Sacramento, California, R&D expertise on plant biology.
In March 2018, Bayer announced the name of this joint venture with Ginkgo: Joyn Bio. The Joyn Bio team is characterizing Bayer's extensive library of more than 100,000 proprietary microbial strains using Ginkgo's high-throughput foundry tools to identify the strains and characteristics necessary to further develop nitrogen fixing bacteria for sustainable agriculture. As depicted here, the basic idea is for engineered microbes to convert atmospheric nitrogen (N2) into ammonia (NH3) for use by plants. These are simple molecules, but the biochemistry for conversion of N2 into NH3 is complex.

Nitrogen exists as N2 gas. Credit tussik13  //   Ammonia exists as a NH3 gas. Credit goktugg
Incidentally, Joyn Bio is one of a number of investments by Leaps by Bayer, a unit of Bayer focused on finding solutions to some of today's biggest problems. Previous Leaps investments include Casebia Therapeutics (CRISPR/Cas technology) and BlueRock Therapeutics (induced pluripotent stem cell technology). You can read about CRISPR/Cas on the TriLink products section or in my previous blogs.
Ginkgo's Business is Rosy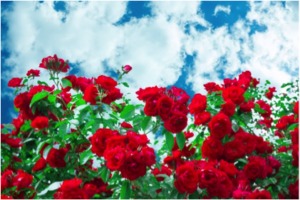 Red roses ready for harvest. Credit: Svetlana Chernova
My penchant for puns prompted this section heading. It's a play on the words rose (flower) and rosy (optimism) to convey the fact that Ginkgo's success in developing a biosynthetic rose fragrance has—dare I say grown—into a rosy commercial sector. Robertet, an established French supplier of naturally produced fragrances, and Ginkgo, collaborated on a production strategy using designer yeast that can now create fragrance components—such as rose petal essence—at a scale sufficient to meet the needs of the cosmetics, perfume, and personal care industry. This can supplement or supplant Robertet's traditional grow-and-extract production methods.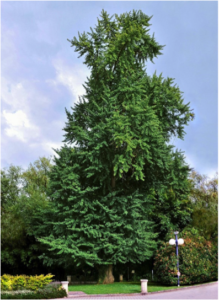 Ginkgo tree in the park of Bad Salzdetfurth, Germany. Credit: Astrid Schur
By the way, you may not know that Ginkgo biloba, commonly known as ginkgo, and also known as the ginkgo tree or the maidenhair tree, is the only living species in the plant division Ginkgophyta, all others being extinct. It is found in fossils dating back 270 million years. Native to China, the tree is widely cultivated, and was cultivated early in human history. It is a source of food and also has various uses in traditional medicine. I tried but could not find how and why Ginkgo Bioworks chose its name. My guess is that the decision was related to some aspect of Ginkgo biloba, perhaps in anticipation of Ginkgo's corporate longevity relative to related species, i.e. other startups.
Gates' Simpatico View of Ginkgo Bioworks
A CNBC.com article about Gates and Ginkgo described the essence of Ginkgo's approach to synthetic biology (aka synbio) as reconfiguring the genome of an organism to get it to do something entirely new. It added that Ginkgo co-founder/CEO Jason Kelly likens synbio to computer programming, only with genetic sequences. So, think of DNA as computer code, and then imagine you can design sequences of DNA on the computer, physically print out those sequences, and insert them into microorganisms such as yeast and bacteria so they make products like rose-scented oil for perfume, or sweeteners for beverages.
Having read this analogy between synbio and computer programming, with DNA as computer code, it suddenly occurred to me that this conceptual connection between computer and genetic coding could be in part why Gates and Ginkgo are simpatico. This connection also led me to ponder the question in this image caption.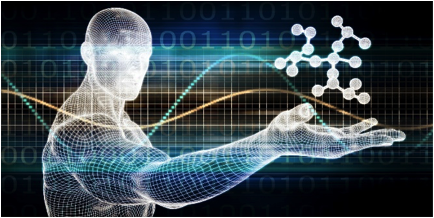 Who programmed DNA in the beginning? Credit: kentoh
As usual, your comments are welcomed.