Can scientists "revive" woolly mammoths?

Passenger Pigeons, possibly?

Is "facilitated adaption" more realistic?
If you haven't seen the 1993 movie Jurassic Park, the plot involves a tropical island theme park populated with cloned dinosaurs created by a bioengineering company, InGen. The cloning was accomplished by extracting the DNA of dinosaurs from mosquitoes that had been preserved in amber—not unlike extraction of ancient yeast DNA from extinct bees preserved in amber for brewing "Jurassic beer" that I featured in a previous posting. However, in Jurassic Park the strands of DNA were incomplete, so DNA from frogs was used to fill in the gaps. The dinosaurs were cloned genetically as females in order to prevent breeding.
This is all a great premise for a movie, but will Jurassic Park-like fantasy become reality in the near future?  What's being investigated now, and are there concerns being voiced? These are just some of the questions touch upon below.
Woolly Mammoths May One Day Roam Real-Life Jurassic Park
Dr. Hendrik Poinar, Director of the Ancient DNA Centre at McMaster University (taken from fhs.mcmaster.ca).
Dr. Hendrik Poinar, Associate Professor at McMaster University in Canada, was trained as a molecular evolutionary geneticist and biological anthropologist, and now specializes in novel techniques to extract and analyze "molecular information (DNA and/or protein sequences)" from ancient samples. His work included such projects as sequencing the mitochondrial genome of woolly mammoths that went extinct long ago. Based on that work, Dr. Poinar was recently interviewed by CBC News about the likelihood of reestablishing woolly mammoths. Here are some excerpts:
Q: Without getting too technical, describe what you're doing to bring back animals like the woolly mammoth?
A: We're interested in the evolutionary history of these beasts. These lumbering animals lived about 10,000 years ago and went extinct. We've been recreating their genome in order to understand their origins and migrations and their extinction. That led to the inevitable discussion about if we could revive an extinct species and is it a good thing.
Q: Why is this so interesting to you?
A: There are reasons why these animals went extinct. It could be climate, it could be human-induced over-hunting. If we can understand the processes that caused extinction, maybe we can avoid them for current endangered species. Maybe we need to think about what we can do to bring back extinct species and restore ecosystems that are now dwindling.
Q: Is it possible to bring these things back to life?
A: Not now. We're looking at 30 to 50 years.
Woolly mammoths roamed both North America and Asia for hundreds of thousands of years. Many went extinct during the most recent period of global warming (taken from CBC News via Bing Images).
Q: How would you do something like that?
A: First thing you have to do is to get the entire blueprint. We have mapped the genome of the woolly mammoth. We're almost completely done with that as well as a couple other extinct animals. We can look at the discrete differences between a mammoth and an Asian elephant. We would take an Asian elephant chromosome and modify it with mammoth information. Technology at Harvard can actually do that. Take the modified chromosomes and put them into an Asian elephant egg. Inseminate that egg and put that into an Asian elephant and take it to term. It could be as soon as 20 years.
Q: Is this such a good idea?
A: That's the million-dollar question. We're not talking about dinosaurs. We'll start with the herbivores—the non-meat eaters. We could use the technology to re-introduce diversity to populations that are dwindling like the cheetah or a wolf species we know are on the verge of extinction. Could we make them less susceptible to disease? Is it good for the environment? We know that the mammoths were disproportionately important to ecosystems. All the plant species survived on the backs of these animals. If we brought the mammoth back to Siberia, maybe that would be good for the ecosystems that are changing because of climate change.
Q: You are tinkering with the evolutionary process?
A: Yes, but would you feel differently if the extinction was caused by man like it was with the passenger pigeon or the Tasmanian wolf, which were killed by humans? Even the large mammoth, there are two theories on their extinction, one is overhunting by humans…and the other is climate. Do we have a moral obligation?
Bringing Back Passenger Pigeons
Ben Novak has a BS in Ecology and worked with mastodon fossils toward a master's degree at McMaster University, but he abandoned that to pursue his long-time passion for passenger-pigeon genetics (taken from wfs.org via Bing Images).
Ben Novak, according to an interview in Nature last year, has spent his young career endeavoring to resurrect extinct species. Although he has no graduate degree, he has amassed the skills and funding to start a project to bring back the Passenger Pigeon—once the United States' most numerous bird (about 5 billion according to Audubon)—which died out in 1914. Following are comments from Ben, taken from the Nature article referenced above, about how his work is funded and its prospects.
"Once I had passenger-pigeon tissue [from the Field Museum of natural History in Chicago, Illinois>
, I started applying for grants to do population analysis, but I couldn't secure funding. I got about $4,000 from family and friends to sequence the DNA of the samples. When I got data, I contacted George Church, a molecular geneticist at Harvard Medical School in Boston, Massachusetts, who was working in this area. He and members of Long Now Foundation in San Francisco, California, which fosters long-term thinking, were planning a meeting on reviving the passenger pigeon….The more we talked, the more they discovered how passionate I was. Eventually, Long Now offered me full-time work so that nothing was standing in my way."
"I have just moved to the University of California, Santa Cruz, to work with Beth Shapiro. She has her own sample of passenger pigeons, and we want to do population genetics and the genome. It's a good fit. Long Now pays me, and we do the work in her lab, taking advantage of her team's expertise in genome assemblies and ancient DNA."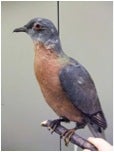 Male passenger pigeon (taken from swiftbirder.wordpress.com via Bing Images).
For the sad story of how this creature went extinct, click here to access an account written by Edward Howe Forbush in 1917.
Doing more searching about Ben Novak led me to another 2013 interview, this time in Audubon. When asked if it's realistic to get a healthy population from a few museum specimens, here's what he said.
"If we're willing to create one individual [passenger pigeon>
, then through the same process we can produce individuals belonging to completely different genetic families. We can make 10 individuals that, when they're mated, will have an inbreeding coefficient near zero…First we need to discern what the actual genetic structure of the species was. We can analyze enough tissue samples to get that genetic diversity."
While perusing the Long Now Foundation's website, I was pleased to read a Passenger-Pigeon progress report posted by Ben Novak on October 18th 2013.  The posting gives a detailed update on genomic sequencing of "Passenger Pigeon 1871″ [date of preservation>
at the University of California San Francisco's Mission Bay campus sequencing facility, as well as some nice pictures. Given what he said above about 10 individuals being theoretically adequate for reviving and restoring an extinct population, you'll be as pleased as Ben is about the following.
"Passenger Pigeon 1871″ was selected as the candidate for the full genome sequence for its superb quality compared to other passenger pigeon specimens. Over the last two years Dr. Shapiro, myself and colleagues have scrutinized the quality of 77 specimens including bones and tissues. Our first glimpses of data confirmed that the samples would be able to provide the DNA needed for a full genome sequence, but as we delved into the work, the specimens exceeded our expectations. Not only do we have one specimen of high enough quality for a full genome, we have more than 20 specimens to perform population biology research with bits of DNA from all over the genome."
Revive and Restore
Reading about Ben Novak's support from the Long Now Foundation led me discover the organization's Revive and Restore Project, aimed at genetic rescue of endangered and extinct species. Its mission is stated as follows:
"Thanks to the rapid advance of genomic technology, new tools are emerging for conservation. Endangered species that have lost their crucial genetic diversity may be restored to reproductive health. Those threatened by invasive diseases may be able to acquire genetic disease-resistance.
It may even be possible to bring some extinct species back to life. The DNA of many extinct creatures is well preserved in museum specimens and some fossils. Their full genomes can now be read and analyzed. That data may be transferable as working genes into their closest living relatives, effectively bringing the extinct species back to life. The ultimate aim is to restore them to their former home in the wild.
Molecular biologists and conservation biologists all over the world are working on these techniques. The role of Revive and Restore is to help coordinate their efforts so that genomic conservation can move ahead with the best current science, plenty of public transparency, and the overall goal of enhancing biodiversity and ecological health worldwide."
This Project's website is well worth visiting, as it provides a fascinating mix of species under consideration (such as the Passenger Pigeon and the woolly mammoth), various video presentations by advocates, and an engaging blog. It also provides a very convenient "donate" button should you be so inclined.
While the Passenger Pigeon project and other Revive and Restore efforts are well intended, I'm more inclined at this time to be neutral-to-negative about the projects, and will reserve a final opinion until all parties, pro and con, have extensive debates similar to what was done in the past for then (and still) controversial recombinant DNA technology. Given the amount of concern and caution then for what we can now view as conventional genetic engineering, it seems reasonable to me that, with far more powerful tools for genomics and synthetic biology being available, "an abundance of caution" is in order when dealing with the possibility of resurrecting extinct species. If Jurassic Park serves as any sort of model for what science can accomplish, perhaps we should also consider what the movie highlights as the potential implications of those accomplishments.
For now, I'm intently interested in the continuing debates and I find it fascinating to consider alternatives such as rescuing species from extinction as outlined next.
"Facilitated Adaption" Pros & Cons
Michael A. Thomas, Professor of Biology at Idaho State University, and colleagues authored a Comment in Nature last year entitled Gene tweaking for conservation that is freely available (yeh!) and well worth reading. Some highlights are as follows:
Sadly, if not shockingly, conservative estimates predict that 15–40% of living species will be effectively extinct by 2050 as a result of climate change, habitat loss and other consequences of human activities. Among the interventions being debated, facilitated adaptation has been little discussed. It would involve rescuing a target population or species by endowing it with adaptive alleles, or gene variants, using genetic engineering—not too unlike genetically modified crops that now occupy 12% of today's arable land worldwide. Three options for facilitated adaption are outlined.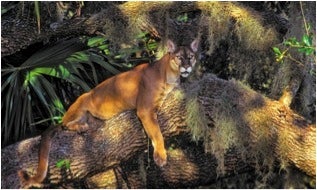 "Poster Child" for facilitated adaption: an endangered Florida panther population was bolstered through hybridization with a related subspecies — a technique that could be refined using genomic tools (taken from Thomas et al. Nature 2013).
First, threatened populations could be cross with individuals of the same species from better-adapted populations to introduce beneficial alleles. A good example of this is crossing a remnant Florida panther population with related subspecies from Texas that significantly boosted the former population and its heterozygosity, a measure of genetic variation that was desired. Risks of this approach include dilution of locally adaptive alleles.
Second, specific alleles taken from a well-adapted population could be spliced into the genomes of threatened populations of the same species. This was exemplified by recent work wherein heat-tolerance alleles in a commercial trout were identified for possible insertion into fish eggs in populations threatened by rising water temperature. Such an approach was viewed as low risk because it involves genetic manipulations within the same species.
Third, genes removed from a well-adapted species could be incorporated into the genomes of endangered individuals of a different species. This transgenic approach has been extensively used to improve plant crops toward drought and temperature. However, outcomes are hard to predict, and a major concern is that such an approach could bring unintended and unmanageable consequences—definitely a scary possibility.
What do you think about reintroducing extinct species?  Do you see other pros and cons to facilitated adaption?  As always, your comments are welcomed.
Postscript
The following, entitled 'De-Evolving' Dinosaurs from Birds, recently appeared in GenomeWeb:
Ancient animals could be resurrected through the genomes of their modern-day descendants, Alison Woollard, an Oxford biochemist tells the UK's Daily Telegraph. For instance, the DNA of birds could be "de-evolved" to resemble the DNA of dinosaurs, the paper adds.
"We know that birds are the direct descendants of dinosaurs, as proven by an unbroken line of fossils which tracks the evolution of the lineage from creatures such as the velociraptor or T-Rex through to the birds flying around today," Woollard says, later adding that "[i>
n theory we could use our knowledge of the genetic relationship of birds to dinosaurs to 'design' the genome of a dinosaur."
In both the book and movie Jurassic Park, the fictional resurrection of dinosaurs relied on dinosaur DNA that was preserved in fossilized biting insects, but as the Daily Telegraph notes, a study in PLOS One earlier this year found no evidence of DNA from amber-preserved insects.
Daily Telegraph adds that any dinosaur DNA recovered from bird genomes would be fragmented and difficult to piece back together. A mammoth, it says, might have a better shot.