Americans spend $5 billion annually for products with unproven benefits

Recent studies show majority of herbal products are contaminated or inauthentic

Dietary supplements account for ~20% of drug-related liver injuries

What can be done to protect consumers?
In August 1873, Darwin had 'a fit', in which he temporarily lost his memory and could not move. He recovered, and busied himself in work on the cross- and self-fertilization of plants. Published in 1876, Effects of Cross and Self Fertilisation in the Vegetable Kingdom provided ample proof of his belief that cross-fertilized plants produced vigorous off-spring that were better adapted to survive. Taken from otago.ac.nz via Bing Images
Since this post comes on the heels of Charles Darwin Day (February 12th ), it's apropos to recognize Darwin's plant-related scientific contributions dealing with plant movement and cross-fertilization—largely as the result of his keen observations and powerful reasoning that we should strive to emulate in our scientific pursuits. Darwin's sense of scientific integrity seems to have been lost on the world of herbal products according to several recent studies and reports. It appears this industry is in need of some policing and compliance that may well come from DNA barcoding.   
According to Anahad O'Connor's sobering article in the NY Times, Americans spend $5 billion a year on unproven herbal supplements—promising everything from fighting colds to boosting memory. Given the size of this market, it's alarming that these products are oftentimes contaminated and/or mislabeled. Hmmm, sound familiar?  You may be recalling one of my posts from last year that explored analogous DNA-based findings for meat and fish products indicating global gross negligence or fraud. To quote Yogi Berra, "it's like déjà vu, all over again". Before delving into the details of this unsettling—if not downright scary—situation, let's briefly discuss some background concepts that will enable us to understand how DNA barcoding may help bring honesty and transparency to the herbal products industry.
What is DNA Barcoding?
Since the herbal products exposé described below involves use of DNA barcoding, some readers may want to know what this methodology involves. Fortunately, Cold Spring Harbor Laboratory provides a website called DNA Barcoding 101 that provides the following snippets of information, as well as detailed "how to" protocols in a downloadable PDF.
Taxonomy is the science of classifying living things according to shared features. Less than two million of the estimated 5-50 million plant and animal species have been identified. Scientists agree that the yearly rate of extinction has increased from about one species per million to 100-1,000 per million. This means that thousands of plants and animals are lost each year, and most of these have not yet been identified.
Classical taxonomy falls short in this race to catalog biological diversity before it disappears. Specimens must be carefully collected and handled to preserve their distinguishing features. Differentiating subtle anatomical differences between closely related species requires the subjective judgment of a highly trained specialist—and few are being produced in colleges today.
Now, DNA barcodes allow non-experts to objectively identify species—even from small, damaged, or industrially processed material. Just as the unique pattern of bars in a universal product code (UPC) identifies each consumer product, a "DNA barcode" is a unique pattern of DNA sequence that identifies each living thing. DNA barcodes, about 700 nucleotides in length, can be quickly processed from thousands of specimens and unambiguously analyzed by computer programs. Barcoding relies on short, highly variably regions of the genome. With thousands of copies per cell, mitochondrial and chloroplast sequences are readily amplified by PCR, even from very small or degraded specimens, to enable DNA sequencing of the barcode.
Herbal product DNA barcodes are, in principle, similar to those pictured below that exemplify unique characterization of two different cryptic species of a butterfly, which appear visually to be nearly identical, and two genera of owl that are visually distinct.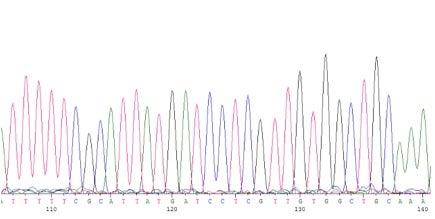 Four-color DNA sequencing trace showing sequence of T (red), C (blue), G (black), and A (green) bases that comprises a barcode and can be redrawn as depicted below (taken from srmgenetics.info via Bing Images).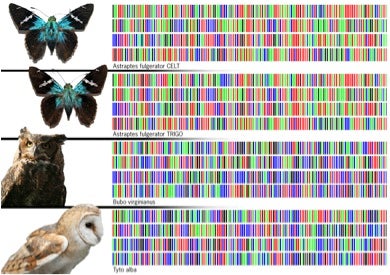 DNA barcodes identify all living things (taken from boomersinfokiosk.blogspot.com via Bing Images).
Selling Herbal Products is BIG Business…But Who's Watching Out for You?
The international trade in herbal products is a major force in the global economy and the demand is increasing in both developing and developed nations. According to a recent report, there are currently more than 1,000 companies producing medicinal plant products with annual revenues in excess of $60 billion. Notably, medicinal herbs now constitute the most rapidly growing segment of the North American alternative medicine market, with over 29,000 herbal substances generating billions of dollars in trade. For those of you who may be interested, I found this list of the top 10 best-selling herbal supplements in the US, among which are Ginseng (#9), Purple coneflower (#6), Ginkgo (#4), Cranberry (#2), and—surprising to me—Soy (#1).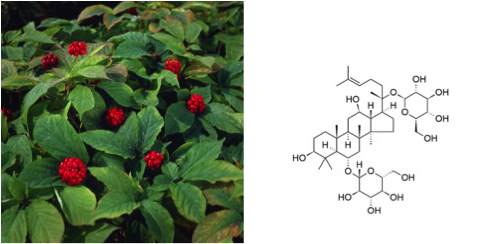 Ginseng berry growth is restricted to certain areas of the world due to climate and weather conditions, making it difficult to cultivate. When this rare berry is picked, it is after a three- to four-year wait, and then the harvest must occur during a short, two-week period. Ginseng berry contains potent antioxidants called ginsenosides—such as Ginsenoside Rg1 pictured here—that are more abundant and different than those found in the root of the ginseng plant. These nutrients are believed to enhance the body's natural defense system to aid against invading free radicals (taken from eexcel.net via Bing Images and Wikipedia.org).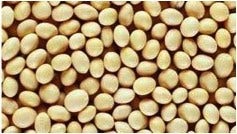 Although soy has been a staple of Asian cuisine for centuries, Westerners have only recently become aware of its valuable health benefits. Soy is a source of easily digestible protein and contains no saturated fat or cholesterol. Scientists have demonstrated through over 40 studies, spanning a 20-year period that eating 25 grams of soy per day helps reduce the risk of America's number one killer—heart disease. According to the US Food and Drug Administration (FDA), eating 25 grams of soy per day as a part of a low fat, low-cholesterol diet may reduce the risk of coronary heart disease (taken from eexcel.net via Bing Images).
Unfortunately, product adulteration and ingredient substitution is not uncommon in the medicinal herb and dietary supplement markets, as species of inferior quality are often substituted for those of a higher value. This practice constitutes not only product fraud, but according to the World Health Organization (WHO), it is a serious threat to consumer safety, as commented on below.
Currently, there are no best practices in place for identifying the species of the various ingredients used in herbal products. This is because the diagnostic morphological features of the plants cannot typically be assessed from powdered or otherwise processed biomaterials. As a result, the marketplace is prone to contamination and possible product substitution, which dilute the effectiveness of otherwise potentially useful remedies. Fortunately, DNA barcoding can now be used to combat this serious situation.
Report Reveals Rampant Contamination and Substitution
Dr. Steven G. Newmaster, Assoc. Prof., Centre for Biodiversity Genomics, Biodiversity Institute of Ontario, University of Guelph, Ontario, Canada (taken from uoguelph.ca).
In October of 2013, a team of Canadian and Indian scientists led by Dr. Steven G. Newmaster published in BMC Medicine a report entitled DNA barcoding detects contamination and substitution in North American herbal products that has received widespread media attention. This study utilized blind sampling of commercially available herbal products, which were tested for authentication of plant ingredients using a Standard Reference Material (SRM) herbal DNA barcode library. The research questions focused on the following three areas. (1) Authentication: is the herbal species on the label found in the product? (2) Substitution: is the main herbal ingredient substituted by other species? (3) Fillers: are any unlabeled fillers used?
They tested the authenticity of 44 herbal products (41 capsules; 2 powders; 1 tablet) representing 12 companies. The samples were collected in the greater Toronto area in Canada, with several samples mailed from distributors in the US. All products are available to consumers in both Canada and the US. The herbal product samples represented 30 herbal species that were each represented by 2 or 3 different companies. The samples were submitted in a blind test for authentication (product no. label only) using PCR-BigDye® Sanger sequencing-based DNA barcoding at the Centre for Biodiversity Genomics within the Biodiversity Institute of Ontario, University of Guelph.
The following are some of their sobering findings:
Only 2 of the 12 companies tested provided authentic products without substitutions, contaminants or fillers.

Nearly 60% of the herbal products contained plant species not listed on the label.

Product substitution was detected in 32% of the samples.

More than 20% of the products included fillers such as rice, soybeans and wheat not listed on the label.
This graphical summary of the results taken from the NY Times speaks for itself.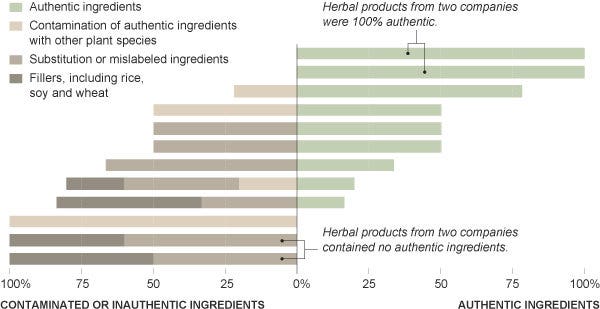 In a follow-up press release from the University of Guelf, Dr. Newmaster said that "[c>
ontamination and substitution in herbal products present considerable health risks for consumers." He added that "[w>
e found contamination in several products with plants that have known toxicity, side effects and/or negatively interact with other herbs, supplements and medications." The statement added that one product labeled as St. John's Wort contained Senna alexandrina, a plant with laxative properties—not intended for prolonged use, as it can cause chronic diarrhea and liver damage, and negatively interacts with immune cells in the colon. Also, several herbal products contained Parthenium hysterophorus (feverfew), which can cause swelling and numbness in the mouth, oral ulcers and nausea. It also reacts with medications metabolized by the liver.
Furthermore, one ginkgo product was contaminated with Juglans nigra (black walnut), which could endanger people with nut allergies. Unlabeled fillers such as wheat, soybeans and rice are also a concern for people with allergies or who are seeking gluten-free products, Newmaster said. "It's common practice in natural products to use fillers such as these, which are mixed with the active ingredients. But a consumer has a right to see all of the plant species used in producing a natural product on the list of ingredients."
Dietary Supplements Account for ~20% of Drug-related Liver Injuries
Consumer safety is not a theoretical concern. According to Anahad O'Connor's follow-on and lengthier Dec 22nd 2013 NYTimes article entitled Spike in Harm to Liver is Tied to Dietary Aids, "[d>
ietary supplements account for nearly 20 percent of drug-related liver injuries that turn up in hospitals, up from 7 percent a decade ago, [that>
according to an analysis by a national network of liver specialists. The research included only the most severe cases of liver damage referred to a representative group of hospitals around the country, and the investigators said they were undercounting the actual number of cases." The article features a 17 year-old male who suffered severe liver damage after using a concentrated green tea extract he bought at a nutrition store as a "fat burning" supplement. The damage was so extensive that he was put on the waiting list for a liver transplant. Fortunately he recovered and the transplant wasn't necessary.
This NYTimes article is well worth reading, and provided further evidence that tighter regulations are needed.
Conclusions
Given the sobering significance of the above study by Newmaster and coworkers, I thought it was better to directly quote concluding remarks by these authors, rather than selectively paraphrase and oversimplify the situation:
"Currently there are no standards for authentication of herbal products. Although there is considerable evidence of the health benefits of herbal medicine, the industry suffers from unethical activities by some of the manufacturers, which includes false advertising, product substitution, contamination and use of fillers. This practice constitutes not only food fraud, but according to the WHO, serious health risks for consumers. A study of health claims made by herbal product manufacturers on the internet found that 55% of manufacturers illegally claimed to treat, prevent, diagnose or cure specific diseases. Regulators such as the FDA and Canadian Food Inspection Agency (CFIA) may not have the resources to adequately monitor the dietary supplement manufacturers and their advertising claims, and there are concerns that the current regulatory system is not effective in protecting consumers from the risks associated with certain herbal products. Chemical research studies have documented poor quality control and high content variability of active ingredients among products from a variety of manufacturers of herbal supplements. This is partly because herbs contain complicated mixtures of organic chemicals, the levels of which may vary substantially depending upon many factors related to the growth, production and processing of each specific herbal product. Although many manufacturers provide products with consistent levels of active ingredients through a process known as chemical standardization, this technique has uncertain effects on the safety and efficacy of the final product."
"Many of the dangers of commercial plant medicine have been brought to light by DNA technology based studies that have identified contamination of herbal products with poisonous plants. Eroding consumer confidence is driving the demand for a product authentication service that utilizes molecular biotechnology. One approach to vetting herbal product substitution and contamination is product authentication using DNA barcoding. Research studies such as ours and others reinforce the importance of using DNA barcoding in the authentication of socioeconomically important herbal species. We suggest that the herbal industry should voluntarily embrace DNA barcoding for authenticating herbal products through testing of raw materials used in manufacturing products, which would support sovereign business interests and protect consumers. This would be a minor cost to industry with a limited amount of bulk product testing, which would certify a high quality, authentic product. If the herb is known to have health benefits and it is in the product, then this would provide a measure of quality assurance in addition to consistent levels of active ingredients. Currently we are building an SRM DNA barcode library for commercial herbal species and standard testing procedures that could be integrated into cost effective 'best practices' in the manufacturing of herbal products. This would provide industry with a competitive advantage as they could advertise that they produce an authentic, high quality product, which has been tested using DNA-based species identification biotechnology, therefore gaining consumer confidence and preference. This approach would support the need to address considerable health risks to consumers who expect to have access to high quality herbal products that promote good health."
I for one would gladly pay a premium for herbal products that are "DNA Barcode Certified".
Wouldn't you?
As always, your comments are welcomed.
Postscript
After I finished writing this post, I went back to the aforementioned BMC Medicine article by Newmaster and coworkers to use its Google-based link to blogs citing this publication. While most were recaps of the report, one entitled It's Now Herbal Products' Turn to (Unfairly) Wear the Scarlet Letter caught my attention. I won't provide a synopsis here, but you may want to read the blogger's rather different, über critical commentary that seems (unfairly) biased to me.
If you're interested in all facets of DNA barcoding, I highly recommend visiting the DNA Barcoding blog by Dirk Steinke at Guelf University that has new posts daily.
For those of you who are educators, the BioBelize website provides an example of how secondary education programs in New York City and Belize came together to define and implement DNA Barcoding curricula to encourage young student interest and involvement in this aspect of science.