Frightening Statistics From CDC

CDC Updated U.S. Map of Outbreak & Advice of What to be Aware

CDC Develops Rapid Real-Time RT-PCR Test for Detection

Some Speculate on Linking Outbreak to the "Southern Border Invasion"
Ebola virus is dominating news reports lately, and perhaps rightly so considering the worldwide impact. Turning our attention, however, to actual incidents of infection and death in the U.S., enterovirus (EV) D68 poses a much greater threat and warrants our attention—especially if you or your friends have young children.
On September 24, Eli Waller's parents were worried that their 4 year-old son had pink eye and kept him home from school so that he wouldn't infect other children. He seemed otherwise healthy. What happened next was shocking.
Eli Waller (Credit Andy Waller, via Associated Press). Taken from NY Times.
'He was asymptomatic and fine, and the next morning he had passed,' said Jeffrey Plunkett, the township's health officer. 'The onset was very rapid and very sudden,' quoted the NY Times.
A week later the Centers for Disease Control and Prevention (CDC) confirmed that Eli had been infected with EV-D68.
EV-D68 was seen as early as August of this year as hospitals in Missouri and Illinois reported increased visits from children with respiratory illness. Soon, the virus was identified in 43 states and detected in 594 patients, 5 of which died.
After reading this very sad—if not frightening—story, I decided to research EV-D68 for this "hot topic" blog, which I'm dedicating to little Eli Waller.
EV-D68 Facts in the U.S. for 2014
Following are facts and related information I've selected from the CDC website for EV-D68 that is well worth consulting if you or your friends have any young children.
The United States is currently experiencing a nationwide outbreak of EV-D68 associated with severe respiratory illness. From mid-August to October 30, 2014, CDC or state public health laboratories have confirmed a total of 1105 people in 47 states and the District of Columbia with respiratory illness caused by EV-D68.
Every year, various species of EV and rhinovirus (RV) cause millions of respiratory illnesses in children—see my Postscript below for details. This year, EV-D68 has been the most common type of enterovirus identified, leading to increases in illnesses among children and affecting those with asthma most severely.
CDC has prioritized testing of specimens from children with severe respiratory illness. There are likely many children affected with milder forms of illness. Of the more than 1,400 specimens tested by the CDC lab, about half have tested positive for EV-D68. About one third have tested positive for an enterovirus or rhinovirus other than EV-D68.
As of October 22, EV-D68 has been detected in specimens from seven patients who died and had samples submitted for testing. Investigations are ongoing; CDC reviews and updates available data every Thursday.
Lakeia Lockwood, mother of D'Mari Lockwood receiving treatment, said he was "Struggling to breathe, coughing. [Doctors>
said the airways were so tight they actually, in Gary, said I almost lost him." Taken from wgntv.com via Bing Images.
What CDC Is Doing about EV-D68
According to a CDC website for EV-D68, the following are now operative:
CDC is continuing to collect information from states and assess the situation to better understand EV-D68, the illness caused by this virus, and how widespread EV-D68 infections may be within each state and the populations affected.
CDC is helping states with diagnostic and molecular typing for EV-D68. CDC has obtained one complete genomic sequence and six nearly complete genomic sequences from viruses representing the three known strains of EV-D68 that are causing infection at this time.
Comparison of these sequences to sequences from previous years shows they are genetically related to strains of EV-D68 that were detected in previous years in the United States, Europe, and Asia. CDC has submitted the sequences to GenBank to make them available to the scientific community for further testing and analysis.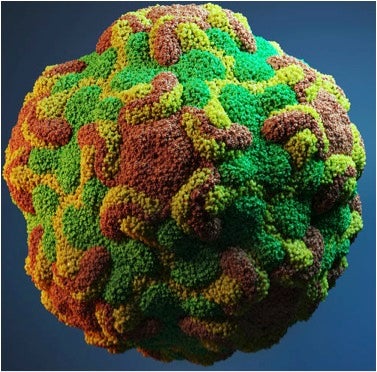 Researchers at The Genome Institute at Washington University have recently sequenced the genome of EV-D68, which is similar to the germ that causes the common cold, rhinovirus, shown above. This picture, taken from a Bioscience Technology interview with senior author Gregory Storch, who is quoted as saying that 'Having the DNA sequence of this virus enables additional research. It can be used to create better diagnostic tests. It also may help us understand why this epidemic seems to be producing severe and unusual disease, and why it's spreading more extensively than in the past.'
CDC Developed a New, Rapid Test for EV-D68 Detection
In an important breakthrough that once again demonstrates the "power of PCR," CDC has developed a new PCR-based test to quickly detect EV-D68, enabling CDC to process over 2000 specimens. As a result, the number of confirmed EV-D68 cases increased substantially in the past few weeks as CDC began using the test on October 14. About 40% of the specimens have tested positive for EV-D68.
Because EV-D68 is an RNA virus, CDC's new lab test utilizes reverse transcription polymerase chain reaction (RT-PCR), which offers fast, "real-time" detection. More information about RT-PCR in general is available at TriLink's webpage for CleanAmp™ One-Step RT-PCR 2X Master Mix.
M. Steve Oberste, chief of the polio and picornavirus laboratory branch at CDC, recently told PCR Insider that until the new CDC test was released on October 14, the agency was detecting the virus using a 10 year-old semi-nested PCR protocol from J. Clin. Microbiol followed by sequencing. CDC's new test is specific for the VP1 gene of EV-D68, and 'is a straightforward TaqMan® rRT-PCR test', Oberste said. The sample prep step remains standard RNA or total nucleic acid extraction.
The lab is currently working on publishing the new method, as well as putting the basic protocol on the CDC website. 'That way, states and clinical labs can adopt it as [a Laboratory Developed Test (LTD)>
,' Oberste said.
Is CDC Hiding EV-D68 Link to Illegal Alien Kids?
At the risk of my being accused of posting politically incorrect comments, the above question is the headline of an online editorial in Investor's Business Daily on October 17 that, within five days—when I wrote this blog—prompted over 500 comments and more that 7,500 tweets.
I won't comment on the editorial's assertion of CDC's 'bungling…about the Ebola outbreak' but I am of the opinion—at least for now—that CDC is probably not 'hiding' anything about EV-68. On the other hand, I strongly agree with the editorial's comment that 'dispersal of …unaccompanied minors, throughout the U.S. without proper medical screening is an appalling dereliction of duty by…an administration sworn to protect the health and safety of American citizens.'
Let's hope that the EV-D68 outbreak—regardless of its origin--ends soon, without further loss of children like little Eli Waller.
Postscript
For readers interested in details of microbiology, here is selected information taken from Blomqvist et al. published in J. Clin. Microbiol. (2002).
The family Picornaviridae contains two large and important genera of common human pathogens, Enterovirus and Rhinovirus. In structural and genetic properties, these two genera are very much alike. However, rhinoviruses, which multiply mainly in the nasal epithelium, differ from enteroviruses, infectious agents of the alimentary tract, by their sensitivity to acid and by their growth at a lower optimal temperature. The genus Enterovirus contains 64 serotypes pathogenic to humans, which have been distinguished by the neutralizing antibodies against them. There may still be uncharacterized serotypes, as some clinical enterovirus isolates are not typeable by existing antisera and show genetic segregation indicative of an independent serotype. Nucleotide analysis of the RNA genomes of different human enterovirus (HEV) serotypes has provided new insight into the classification of enteroviruses, resulting in the division of these viruses into four main genetic clusters, designated HEV species A to D. Poliovirus serotypes 1 to 3 are genetically related to HEV-C but are classified as a species of their own. The genus Rhinovirus contains 102 serotypes, which are numbered from 1 to 100. Serotype 1 contains two subtypes, 1A and 1B. More recently, a strain referred to as the Hanks strain has been proposed to represent a new serotype.