High School Student's PCR Experiments Launched to Space Station

Program Evaluates Epigenetics Linked to Astronaut's Altered Immunity

Amplyus Has Big Plans for Its Tiny, Low-Cost PCR Device
In my 2013 blog post on the 30th anniversary of the invention of Nobel Prize-winning PCR by Kary Mullis, I ventured to say that PCR of DNA or RNA was the most widely used—and enabling—method for all life sciences on planet Earth. This accolade can now be expanded to extraterrestrial space in view of PCR experiments to be carried out in the International Space Station (ISS) following the April 8th launch from Kennedy Space Center in Florida aboard NASA's Cargo Resupply Services flight (CRS-8).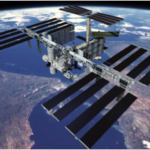 Taken from earthkam.org
What makes this "out of this world" milestone for PCR even more exciting is that it's the result of competition among students in high school—yes, high school—to conceive and design PCR-based studies relevant to living in space. Following is a brief synopsis of the program, the winning high school student, and a small startup company with big plans for its low-cost miniPCR™ device.
Genes in Space
The stated goal of Genes in Space is to "foster creativity, collaboration, and critical thinking among young innovators bridging the biological and physical sciences." Aviation leaders, biotech innovators, space explorers, and STEM enthusiasts in education have joined together to create this challenge. The competition is open in the U.S. to students in 7-12th grades, as individuals or teams up to four, who propose a DNA experiment to be conducted aboard the ISS and describe what role the ISS and PCR technology play in the proposal.
Partners supporting Genes in Space represent an interesting—in my opinion—mix of the following corporate and Federal players listed in alphabetical order:
Boeing – NASA's prime contractor for the ISS; provides research integration, sustaining operations and maintenance for the utilization of the station.
Center for the Advancement of Science in Space – selected by NASA in July 2011 to maximize use of the ISS U.S. National Laboratory through 2020 by supporting and accelerating innovations and new discoveries that will enhance the health and wellbeing of people and our planet.
Math for America – provides fellowships to outstanding teachers to share knowledge, advance teaching skills and define excellence itself.
Amplyus – this newish company's miniPCR™ technology, which will be used for DNA analysis aboard the ISS, is sold to labs and for classrooms. There's more on Amplyus and miniPCR™ at the end of this blog post.
New England Biolabs®–a leading supplier of enzymes for molecular biology applications and genomic research.
The Winning Student and Her Proposal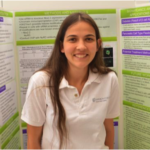 Anna-Sophia Boguraev (Taken from lohud.com)
Anna-Sophia Boguraev, a 17 year-old senior at Fox Lane High School in Bedford, NY was the winner of the 2016 Genes in Space competition. According to a newspaper article, Anna-Sophia's interest in DNA started in 5th grade, so in some respects she's invested many years of thought about DNA despite her young age. All of the finalists presented their proposals to a panel of scientists and educators at the ISS Research and Development Conference in Boston in June 2015. Anna-Sophia's winning proposal is to establish whether genetic changes to DNA and the weakened immune system observed in astronauts are linked, as is currently hypothesized.
Finding the cause for the weakened immune systems of crews is an important step in safeguarding health for long duration missions, such as the three-year mission to Mars. Readers interested in currently known facts about astronaut immune system dysregulation can read an informative abstract I found among numerous publications by searching Google Scholar for astronaut weakened immune system. Having said this, next are some of the specifics that I've extracted from a NASA website dealing with the ISS and Genes in Space.
Previous research has shown that spaceflight may cause epigenetic changes in DNA (e.g. changes in 5-methyl-2'-deoxycytosine (m5dC) patterns). This raises the likelihood that epigenetic changes triggered by the space environment may be altering normal differentiation processes of immune cells, thus causing altered immune response observed in astronauts.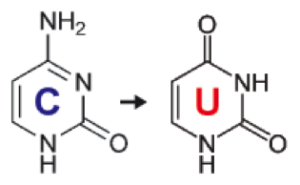 Taken from zymoresearch.com
The established analytical methods to determine whether DNA is methylated use bisulfite conversion (aka bisulfite treatment) to deaminate non-methylated dC to produce 2'-deoxyuracil (dU) in DNA under reaction conditions in which m5dC is non-reactive. PCR "writes" dU as dA and m5dC as dG, and methylation specific priming (MSP) for PCR determines "methylation status" of promoter regions of genes that are either extensively methylated or not, thus regulating gene function.
The goal of Anna-Sophia's experiment is to establish whether bisulfite treatment followed by the use of methylation-specific primers during PCR can be used to detect changes in DNA methylation in microgravity. In Phase 1, a test DNA sample will demonstrate miniPCR™ performance in microgravity, whereas Phase 2 will involve MSP of bisulfite converted DNA. All samples are prepared at the launch center and kept on cold storage until PCR in the ISS, where they are then kept in cold storage for the return trip to earth.
By remarkable coincidence, yours truly did quite a bit of bisulfite conversion chemistry and related analyses during another professional life, so to speak, while at Applied Biosystems. This, once again, indicates that "it's a very small world"—or should I now say, solar system.
Amplyus and miniPCR™
In my opinion, the genesis of Amplyus as a startup company and miniPCR™ (its primary product), are inherently interesting stories, although participation in Genes in Space certainly adds significant "buzz," if not free PR. Following are some specifics about the company that caught my attention. You can get the detailed backstory on founding Amplyus from a lengthy GenomeWeb article in 2014.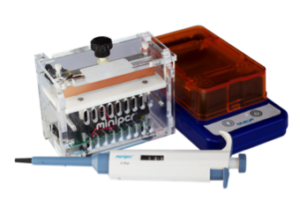 Taken from minipcr.com
Amplyus states that "most of us never touch DNA technologies because they are complex and expensive. miniPCR™ opens the world of DNA science for everyone, everywhere." This emerging trend to expand PCR from the lab to everyone has been referred to as "democratization" of genomics. From the picture on the right showing a miniPCR™ device beside a conventional pipet, it's evident  that miniPCR™ is—as Amplyus describes it—"a tiny DNA copier".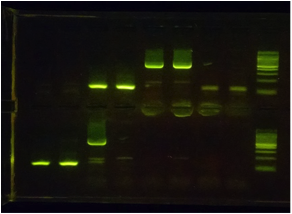 Taken from minipcr.com
Although this nifty gadget does not offer real-time monitoring like that offered by Ubiquitome, its thermal cycling programs can be entered via a smartphone, which is also used to take pictures of end-point gels. As shown above next to a miniPCR™, the electrophoresis device is also small. Preloaded intercalator-dye and safe blue light allow visualization and semi-quantitation of sample DNA bands vs. calibration markers, as seen below.
If you're wondering about cost, $990 gets you the pictured PCR and electrophoresis devices as well as the pipet. PCR can be performed on 8 x 0.2 mL sample tubes that are PCR strip-compatible. A battery pack for full-power autonomy is optional, thus allowing what I think of as "PCR off the grid".
Available applications include those for the lab, field, classroom, and home. The latter piqued my interest, and involve "how to" for ages 12 and over:
Solve a crime mystery

Contain an E. coli outbreak

Analyze your food for GMOs

Learn about your genes

Find new species
These sure sound more exciting and educational than playing mindless video games or watching most TV programs. In any event, these are amazingly more advanced than what I did growing up at home. But I digress…
The principals at Amplyus are each notable in their own right and include co-founders who are very passionate about educating future scientists and—importantly for them—non-scientists as well:
Ezequiel Alvarez-Saavedra, PhD, Co-Founder is a geneticist trained at MIT and Stanford, and is an inventor of gene-detection technologies.

Sebastian Kraves, PhD, Co-Founder is a molecular neurobiologist trained at Harvard, who was a Principal with The Boston Consulting Group (BCG), where he helped make biomedical technology accessible to low-resource settings for global health.

Mugdha Narasimhan, Chief Experience Officer has an MBA from Harvard Business School, and at Amplyus tackles the challenge of youth engagement in science by helping make complex science more tangible and accessible.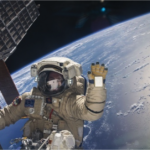 Taken from boeing.com
Kudos to them, and I'm sure we'll all look forward to the results of Anna-Sophia Boguraev's first-ever Genes in Space experiment, which is shown in this fascinating video taken onboard the ISS. I also encourage you all to stay tuned to find out what project is selected in this year's competition.
If you have any suggestions about what you would like to investigate aboard the ISS, please share those as comments here. Any other comments are also welcomed.
Postscript
Personally, I'm absolutely fascinated by the technical progress—and international spirit—embodied in the ISS, which we now take for granted. If you're a "space exploration fan" like me, and want to experience real-time video and communications, then here's a link to NASA Live ISS Stream, which has 80,000+ followers, 67M+ views and 700+ viewing now as I write this.
Amazing.