Mind Boggling Breadth and Significance of Scientific Publications

Serial Entrepreneur and Science Advisor to Many Companies

Radical Advocate of Total Openness for Personal Genomics
While seeing for the umpteenth time a Dos Equis beer commercial featuring The Most Interesting Man in the World, I was suddenly inspired to write a blog about The Most Interesting Scientist in the World. After scrolling and polling my memory to decide who that would be, it was an easy decision to pick George M. Church, professor of genetics at Harvard. As I'll briefly highlight herein, Prof. Church's contributions continually span a mind boggling spectrum of science that cuts across academic theory, ground breaking "how to" methods, serial entrepreneurship, and—perhaps most importantly—radical openness for personal genomics.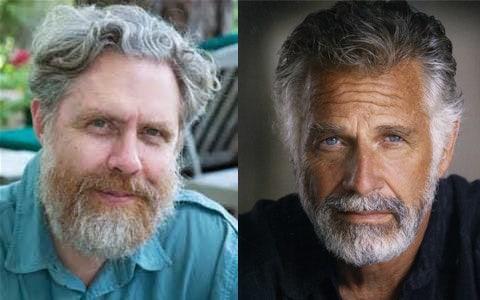 George M. Church and The Most Interesting Man in the World: 'I don't always read science, but when I do it's by George M. Church.' (taken from Bing Images)
Scientific Superman
Most scientists—including me—would be very happy with being recognized as having made a significant contribution in one area of research. So, what is super impressive to me about George Church are the number, breadth and continuity of his contributions that are truly significant—in my opinion. This is based on a quick scan of his nearly 300 publications to date, from which I selected a dozen that are indicative of this remarkable achievement.  The titles of which are given here, in chronological order, along with a brief comment:
Openness of Personal Genomics
For the past 15 years or so, continuing advances in DNA sequencing pioneered by Church—and many others—have enabled the ability to now sequence the genome of an individual at a cost that is affordable within health care systems in developed countries. While this new era of "personal genomics"is only at its dawn, Church's vision of the need for complete "openness" is a radical departure from traditional confidentiality of medical information.
This view of the future was actually embodied nearly ten years ago by his founding of the Personal Genome Project (PGP), which is dedicated to creating public genome, health, and trait data. PGP's stated philosophical and operational positions are that "sharing data is critical to scientific progress, but has been hampered by traditional research practices—our approach is to invite willing participants to publicly share their personal data for the greater good."
The best leaders do so from the front, so it's not surprising that Church describes himself as "guinea pig #1" of the PGP, enrollment for which is an online process that you can access here to read about the study guide and consent forms. To get a sense of what this complete openness involves, here's a link to access each of the approximately 4,000 Participant Profiles, with Church being first on the list as PGP#1, participant ID hu43860C. Clicking his ID link lets you peruse all sorts of medical information such as conditions and medications. BTW, his conditions include narcolepsy, which not to make lite of could partly be due to his super active brain!
I really like the "Nobody is Average" statement and image shown below because they succinctly convey the essence of why personal genomics is important: individual genomes in a population are each different and are therefore best understood as such, rather than an ensemble average.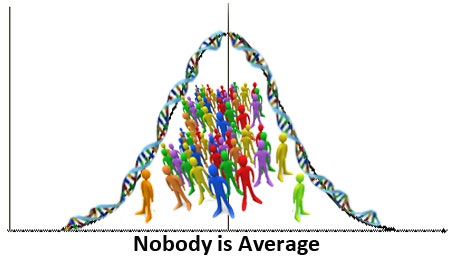 Nobody is average but what to do about it? That is the challenge of individualized disease prevention based on genomics. Taken from one of a series of must-read posts in blogs.cdc.gov via Bing Images.
Consequently, the PGP is a critically important feasibility assessment of how an individual's genome and health information are dealt with. The PGP is still work-in-progress, with benefits and insights to-be-determined at some time in the future. Reading a recently published interim report on "lessons learned" so far gave me the impression that specific, actionable medical benefits have been obtained in relatively few instances. On the other hand, much was favorably said about the "ongoing participatory learning experience this project represents for both its participants and researchers"—sort of kumbaya for personal genomics.
In any event, we'll have to stay tuned for future reports to see how things pan out for the PGP and its allied efforts, such as the Encyclopedia of DNA Elements (ENCODE) project and the National Institute of Standards and Technology (NIST) Genome in a Bottle (GIAB) consortium. While much has already been published about ENCODE, GIBA is relatively new. It's a public-private-academic consortium initiated by NIST to develop the technical infrastructure (reference standards, reference methods, and reference data) to enable translation of whole human genome sequencing to clinical practice. The consortium holds biannual public workshops in January at Stanford University and in August at NIST in Gaithersburg, MD.
Serial Entrepreneur and Indefatigable Science Advisor
I sometimes think of George Church as the Duracell Bunny-equivalent for founding genomics-based start-up companies because he keeps doing and doing it while others stop. So too for his being a Science Advisor, because I keep coming across new companies leveraging his sage advice.
In researching these aspects of Church's professional involvements, I came across a Bloomberg Business Week synopsis that is well worth reading, although it will make you very tired even thinking about how he manages to do all of this over and above his many purely academic interests. Although I won't list the more than 20 advisory positions, which you can peruse on your own, his 12 startup companies are grouped as follows.
Medical diagnostics: Knome, Alacris, AbVitro, and Pathogenica

Synthetic biology/therapeutics: Codon Devices, Joule, Gen9, Editas Medicine, Egenesis, enEvolv, and WarpDrive

Renewable chemicals, fuels and other products: REG Life Sciences
Among these, I think that Editas Medicine is an especially notable start up to watch going forward because it's based on currently "white hot" CRISPR/Cas9 and TALENs technologies, which enable unprecedented genome editing, as outlined in a TriLink tutorial. Editas Medicine co-founders are world leaders in this genome editing: George Church (Harvard), Feng Zhang (MIT), Jennifer A. Doudna (UC Berkeley), J. Keith Joung (Harvard), and David R. Liu (Harvard).
According to a 2013 press release, Editas Medicine secured $43 million financing from several well-known venture capital investment firms. It also states that CRISPR/Cas9 and TALENs "have made it possible to modify, in a targeted way, almost any gene in the human body with the ability to directly turn on, turn off, or edit disease-causing genes." It adds that "Editas' mission is to translate its genome editing technology into a novel class of human therapeutics that enable precise and corrective molecular modification to treat the underlying cause of a broad range of disease at the genetic level."
At the risk of throwing cold water on these red hot technologies for genome editing, it will likely take quite a while—and definitely much, much more money—to achieve the first FDA-approved clinical example of a genome-edited therapeutic. Hopefully, I will be proven wrong.
BTW, even if genome editing falls short of enabling new therapeutics, researchers in academia and start ups like Editas will have learned much more about the intricacies of molecular biology, and likely reveal yet another new way to achieve that goal. I've always believed that taking risks and learning from mistakes are key to scientific advances, which I why I'm ending this post the following thought.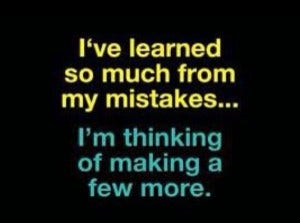 Taken from quotespictures.com via Bing Images.
What do you think will happen?  Which of Church's projects are most interesting to you?  As usual, your comments are welcomed.