Annual Cost of Foodborne Illness and U.S. FDA Response
Every year contaminated food sickens some 48 million people in the U.S., necessitates 128,000 hospitalizations, and results in 3,000 deaths, according to recent estimates from U.S. Centers for Disease Control and Prevention. Extrapolating these numbers to other developed countries isn't straightforward, but I used available information to guess that the number of cases of foodborne illness worldwide is roughly 4-5 times greater than the US.
In addition to the toll in human suffering, food contamination that is discovered too late exacts a heavy financial cost on the food industry and the public. A study supported by the Pew Charitable Trusts has estimated that food contamination costs the United States about $152 billion a year after accounting for lost workdays and reduced quality of life, as well as medical expenses.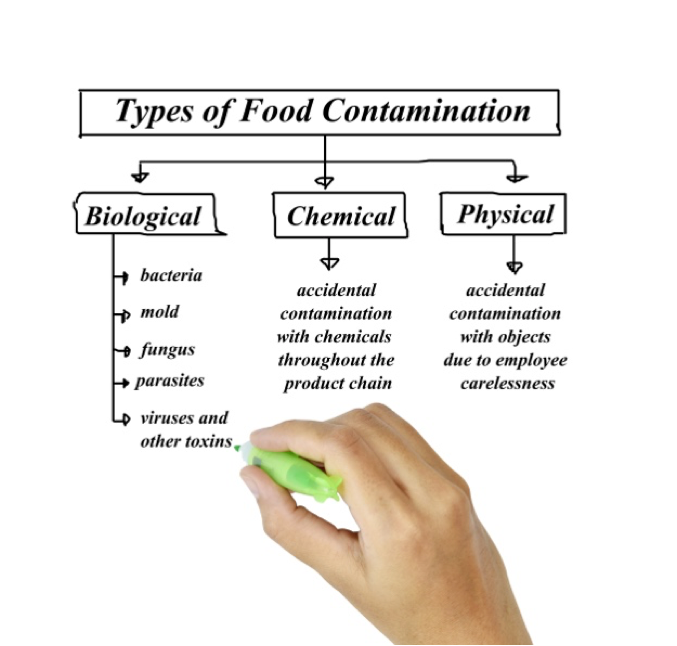 Continuing outbreaks of foodborne illness have led consumer groups to call for tighter regulation. The result was the FDA Food Safety Modernization Act (FSMA)—the most sweeping reform of U.S. food safety laws in more than 70 years—signed into law by President Obama on January 4, 2011. It aims to ensure the U.S. food supply is safe by shifting the focus from responding to contamination to preventing it. Here's how.
The U.S. FDA now has a mandate to require food-safety controls. Companies across the food-production and food-distribution network must write outbreak-prevention plans, monitor the performance of their controls, and specify the corrective actions they will take when necessary.
A detailed summary of the FSMA and a host of related information can be read about at this link that includes Guidance for Industry, Final Rules, and Presentations.
PCR Powered Prevention 
In a nutshell, the well-known power of PCR to unambiguously identify and quantify microorganisms lends itself to prevention of foodborne contamination from entering the food supply. Other important attributes of PCR for such prevention are its highly evolved instrumentation and ancillary sample preparation methods, which together provide for fast time-to-results in either centralized labs that receive express-shipped samples, or decentralized (aka point-of-need) facilities at or very near the food source.
Most major commercial suppliers of PCR instrumentation and reagents offer a line of products aimed at food safety per se or quality control for microorganisms that are detrimental to taste, smell, shelf life, and other producer or consumer concerns. An example of such is ETS Labs in California, which uses real-time PCR to detect a full range of wine and juice spoilage organisms to help ensure quality in the wine making industry. This genetic analysis method, which utilizes TriLink's Hot Start CleanAmp dNTPs under a licensing agreement, detects microbial populations directly in wine or juice. Results are routinely reported within two business days, giving winemakers the ability to address problems before wine defects occur.
Regular readers of this blog will recall that I have touted the advantages of PCR in various contexts, including some aspects of food chain validation and tracing from "farm-to-fork." However, as indicated above, the present post is focused on preventing foodborne illnesses and showcasing innovators in this space, namely Invisible Sentinel.
Highly-Visible Invisible Sentinel
Truth be told, I can't recall how I first came across Invisible Sentinel, but I'm glad I did because it's an interesting story from the perspective of innovation in food safety technology as well as opportunity in an emerging market.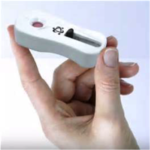 Taken from phillymag .com
Technology-wise, the first thing that caught my attention was the remarkably small size of the PCR read-out device developed by Invisible Sentinel, which is pictured below. Before getting into the specifics of what's packed inside of this tiny gizmo, I should mention that there are up-front sample prep and PCR thermal cycling steps that must be performed before using the device. These steps have been simplified but involve conventional approaches that can be read about at this link rather than discussed here.
Much more intriguing to me was how PCR amplicons are detected by Invisible Sentinel's Veriflow® DNA Signature Capturing Technology, which more accurately involves visualization by eye as opposed to fluorescent signal detection commonly used for real-time PCR measurements. Since functional details for this visualization system are not provided on Invisible Sentinel's website or various YouTube videos, I'll briefly summarize below what I found in a recently issued Invisible Sentinel patent that describes its version of what is known as Immuno-PCR.
The following schematic, taken from this patent, depicts visualization of two different amplicons derived from 5'-labeled primers: digoxigenin/TAMRA amplicon 20 and FITC/TAMRA amplicon 40 using three antibodies 15, 30, and 50 that are either attached to a membrane, bridge, or bind streptavidin-gold nanoparticles. The latter nanoparticles are visualized by eye, but only if both amplicons form the complex shown. Variations of this scheme can be used for visualization of a single amplicon.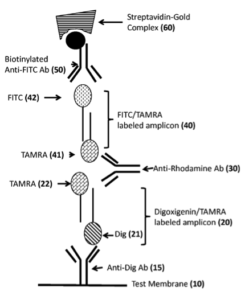 Taken from US Pat. No. 9,347,938
Visualization in this manner is formally analogous to pregnancy strip tests that show two bands for a positive result and only one band for a negative result. Interested readers should consult the aforementioned patent for details regarding how input amplicons undergo lateral flow to ultimately bind to antibody 10 attached to the test membrane shown above.
Exemplary Applications
According to Invisible Sentinel, 114 companies in the U.S. and more than 50 internationally use the technology at more than 250 different sites in 18 countries.
For example, Wawa Inc. (which owns dairy and beverage manufacturing plants as well as 715 convenience stores in six states) has adopted Veriflow®, as has Refresco Gerber Partner for monitoring juice spoilage. WholeVine Products in California, which produces a variety of products from grape seeds and skins, has begun using Veriflow® to make sure its plant equipment and surfaces are pathogen-free.
Although Invisible Sentinel's website provides a list of currently available tests, I thought it would be useful to provide the following links to several self-explanatory published applications that I found by searching Google Scholar:
Invisible Sentinel Identifies New Market Opportunities for PCR
Invisible Sentinel was started by a pair of entrepreneurs with science backgrounds. Nicholas Siciliano, 37, graduated from Villanova with a degree in chemistry in 2004 and obtained a doctorate in immunology and microbial pathogenesis from Thomas Jefferson University in 2015. In between, he was a biotech consultant and worked as a researcher at the University of Pennsylvania School of Medicine.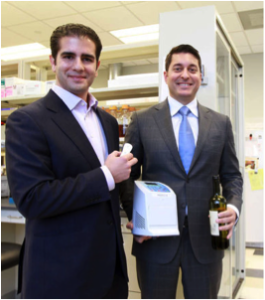 Nicholas Siciliano (left) and Benjamin Pascal in their lab. Taken from articles.philly .com
Benjamin Pascal, 35, has a bachelor's degree in political communication from George Washington University in 2003 and a master's in business administration from Lehigh University in 2009. He learned biology at the National Institute for Medical Research in London, and then spent several years in R&D at B. Braun Medical Inc.
According to an article in the NY Times, the two wanted to create a diagnostic device that was faster, easier and cheaper to use. They began with $235,000 from friends and family, but the recession made it tough to bring institutional investors onboard. In 2009, they raised another $1.1 million from friends and family, $2 million more in 2011, and raised $7 million at the end of 2013.
Invisible Sentinel's sales have been on the rise. The company posted revenue of $50,000 in its first year of sales in 2013, $1.1 million in 2014 and more than $4 million in 2015. It has ambitious projections of $30 million in 2018 and $60 million in 2020. The company expected to turn a profit in 2016.
While Invisible Sentinel may have been one of the first to identify the significant market opportunity for food safety monitoring devices, they currently face formidable competition in larger companies such as Romer Labs' RapidChek®, Bio-Rad Laboratories' iQ-Check® and DuPont's Bax® system. Invisible Sentinel is hoping to capture significant market share with its low cost of entry and easy-to-use system. The company can reportedly set up an in-house lab for about $5,000 and train almost anyone to use it in less than a day. Invisible Sentinel kits cost more than others (about $10 per test compared to an industry average of $4 to $8), but the lower capital equipment and lab set up costs are said to greatly offset the higher test costs.
In closing, I hope that you have found this piece on food safety and immune-PCR in the context of Invisible Sentinel to be a nice example of how nucleic acids-based technology is enabling improved food safety.
As usual, you are welcomed to share your comments here.
SaveSave
SaveSave
SaveSave
SaveSave