Toxins from Harmful Algae Blooms (HABs) Shut Down Toledo's Drinking Water Supply

Fertilizer Run-off is to Blame, Along with Global Warming

Beware of Dead Zones that Result from HABs
While the origin of the now-not-trendy exclamation "Holy Toledo!" is subject to much speculation, the origin of a deadly toxin in the water supply for Toledo, Ohio last year is quite clear: algae growing in Lake Erie near the city's water intake system. Having grown up in Buffalo, NY located at the opposite end of Lake Erie, which is the 4th largest lake in the U.S., I can still clearly remember seeing this algae as seemingly endless greenish muck. I also remember gagging from its stench, wondering when something would be done to stop it. That was many years ago, and sadly this situation still persists and has led to a real crisis in water contamination, as well as created massive areas of water ominously called "dead zones." After you read the following short synopsis of these troublesome problems, you may want to forego drinking tap water in favor of pure glacier water—while it lasts (but that's a whole other scary story about global warming that we'll save for another time).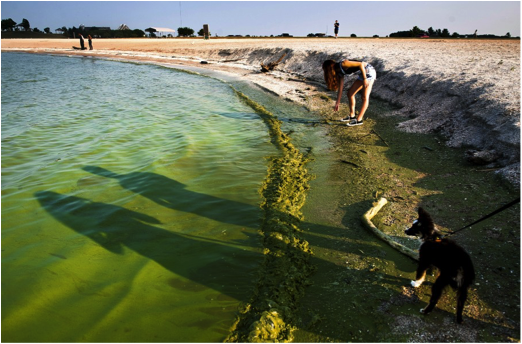 The shores of Lake Erie. (Photo by Ty Wright for The Washington Post)
Toledo's Toxic Water Scare is Symptomatic of a Bigger Problem
The water purification system for Toledo services a population of more than 400,000 persons and represents a whopping 26 billion gallons of drinking water per year. The number of people served by Toledo is large in absolute terms, but only a small fraction of the total population of cities around the Five Great Lakes, all of which are interconnected geographically and water-wise. So, in contrast to Las Vegas, "what happens in Toledo doesn't stay in Toledo," at least where the water is concerned. Last summer, routine monitoring of the quality of that water led to sounding loud alarm bells, so to speak, when unsafe levels of microcystin—a bacterial toxin—were detected.
This led to an immediate ban on drinking that water, forcing residents to obtain bottled water—assuming they could get some before their neighbors, all of whom made mad (pun intended) dashes to stores to get some before it was gone. Although the ban was lifted several days later, the root-cause problem persists and can strike again there or elsewhere.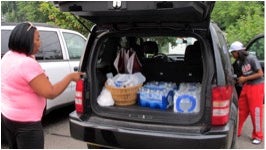 Aundrea Simmons pointing out cases of bottled water she bought after Toledo warned residents not to use its water. (Photo by John Seewer/AP)
Microcystins are actually a family of over 80 structurally related toxins produced by cyanobacteria (aka blue-green algae) that live on nitrogen and obtain their energy by photosynthesis. The most toxic microcystin shown below features modified amino acids, such as dehydroalanine, that bind covalently to protein phosphatases thus disrupting normal cellular control processes.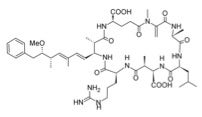 Microcystin-LR (taken from Wikipedia). Dehydroalanine has the >C=CH2 moiety shown schematically in the upper right-hand quadrant.
Although cyanobacteria are found virtually everywhere on earth (i.e. in soil, bare rock, saltwater, and freshwater), aquatic cyanobacteria are most visible because of their so-called greenish-blue "blooms" that float. These blooms are so large physically—and so big of a problem globally—that they are seen and tracked by satellite systems jointly operated by the National Oceanic and Atmospheric Administration (NOAA) and the National Aeronautics and Space Administration (NASA). You can clearly see the cyanobacteria in the image below of Lake Erie, wherein I've circled the Toledo metropolitan area-bloom in red—yikes!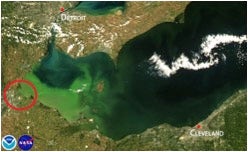 Satellite image of 2013 intense bloom concentrated in the western basin of Lake Erie. (MODIS/NASA, processed by NOAA/NOS/NCCOS)
Exposures, Health Risks, Root Causes and Remedies
I checked into what information the Environmental Protection Agency (EPA) provides about these harmful algae blooms—or HABs as they are commonly called—and here are my selected snippets of what is said about health and ecological effects at an EPA website here:
Most common exposures to aquatic cyanobacteria and their toxins occur during recreational activities via oral, dermal, and inhalation routes—especially at the shoreline where wind and surf pile-up algae cells

Additional major routes include ingestion of "cyanotoxin'-contaminated drinking water, inhalation while showering, dietary intake via consumption of cyanotoxins in contaminated foods and algal dietary supplements

Consumption of fish flesh is "usually considered safe," but NOT liver, stomach/intestinal contents, and mussels or clams collected during or immediately after HABs

Symptoms range from allergic-like to flu-like–like reactions or skin/eye irritations all of varying severity. In addition, "cyanotoxins" have been linked to gastrointestinal illness, liver disease, neurological effects, and possible cancer in humans

The most serious incidence occurred in 1996 at a hemodialysis clinic in Brazil when 26 dialysis patients died from liver failure after internalization of microcystins via the clinic's water supply
As I mentioned above, cyanobacteria live on nitrogen, which together with phosphorus—another required element—are components in widely employed, if not over-used fertilizers. Water run-off from big and small farms, lawns, as well as malfunctioning septic systems, collectively provide elemental "food" for HAB growth. While the obvious remedy is to prevent or cut back on these root causes, doing so is a knotty problem—especially for farms that feed us—with potentially high environmental costs to us all in the end.
This prompted my musing about whether wide adoption of the currently trendy Paleo Diet (aka Hunter-Gatherer Diet) might help to mitigate HABs in a meaningful way. I found, however, mixed opinions about this on the web. Interestingly, that led me to an informative article with this catchy title: The most eco-friendly diet is also best for our health. Needless to say, I read it, and suggest you do the same so we can collectively do our part to mitigate HABs—even if only a little—and get heathier at the same time!
More importantly, NOAA and allied agencies are currently offering numerous funding opportunities related to combating HABs and preserving our nation's coastal ecosystems. By way of example, recent awards include the following:
Early warning detection methods for toxic Alexandrium blooms in the Gulf of Maine. Alexandrium toxins can lead to the potentially fatal human illness of paralytic shellfish poisoning

Advanced harmful algal bloom monitoring technologies and early warning methods in New York

A biofilter to remove algal toxins from the Great Lakes. The goal is to break down harmful algal toxins into harmless byproducts

Early warning detection of harmful algal bloom "hot spots" off southern and central California. The goal is obtain data potentially leading to bloom predictions
Dead Zones and Global Warming
At the risk of ending this post on an even more ominous topic, but in the interest of us confronting reality, the consequences of HABs go well beyond negatively impacting beach access or drinking water availability by contributing to formation of dreaded Dead Zones. Briefly, here's how:
As more algae grow, other algae die. This dead organic matter becomes food for bacteria that decompose it. With more food available, the bacteria increase in number and use up the dissolved oxygen in the water. When the dissolved oxygen content decreases, many fish and aquatic insects cannot survive. Algae do not require oxygen to live, so they continue to grow leading to more oxygen-starvation of other aquatic species until there is a so-called Dead Zone.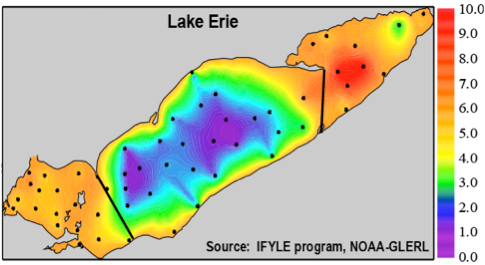 Dissolved oxygen concentrations (mg/l) in Lake Erie during September 7-11, 2005. Hypoxia (dissolved oxygen levels < 4 mg/L) in the central basin can be lethal to fish (taken from glerl.noaa.gov).
Experts have recently pointed out that, in addition to increased fertilizer-run-off-driven HABs, Dead Zones in Lake Erie are expanding due to less water in-flow associated with—you guessed it—carbon dioxide-driven global warming. I used to be skeptical-to-neutral about the scientific arguments for global warming, but not now, due to the compelling nature of all sorts of data being recorded around the world over time.
While we can all do our part as individuals to reduce carbon dioxide emissions, the real challenge is to also persuade China, Russia, Brazil and India to work to reduce emissions. These countries, along with the U.S., Germany and the UK are listed among the top 7 contributors to 60% of global warming.
What do you think about all of this?
Your comments are welcomed.