The Quest to Make 100 the New 60

Aiming to Sequence 100,000 Human Genomes Per Year (Wow!)

Adding Genomes, Microbiomes, and Metabolomes to Health Records May Lead to Better Health and Longevity
Prologue
Although this post is mainly about a new start-up called Human Longevity, whose mission is to apply genomics to guide increased longevity, the fact that this company was founded by J. Craig Venter has certainly created a "buzz." The very name Venter—to me—is synonymous with scientifically unorthodox ideas that are big and bold. If you're familiar with Venter's accomplishments and "genomics rock star" status, go to the next section; if not, here are some highlights of his rise to fame.
As an investigator at NIH, Venter gained notoriety when he caused a brouhaha with his intentions to patent genes he discovered using expressed sequence tags (ESTs). The controversy was so extensive that it precipitated resignation of Nobel Laureate James D. Watson in 1992, who was then Director of NIH's Human Genome Office. This caught the eye of a venture capitalist, Wallace Steinberg, who wanted to start a gene-finding company—with Venter as its head. Venter, however, insisted on a nonprofit venture, so Steinberg set him up in a nonprofit entity called The Institute for Genomic Research (TIGR) supported by a new company, Human Genome Sciences. (A NY Times story by Nicholas Wade entitled "A Maverick Making Waves" provides a nice overview of Venter's career path through 2000).
Venter generated thousands of EST's to the human genome that became the intellectual property of Human Genome Sciences and enabled the company to develop far-reaching claims to many medical genes of interest. In partnership with Nobel Laureate Hamilton O. Smith, Venter next used shotgun sequencing—then unproven, and controversial—to completely sequence Haemophilus influenzae. This gave scientists their first glimpse into the set of genes necessary for life. Moreover, this achievement set off a revolution in medical microbiology, inspiring efforts to decode every major pathogen and learn the microbes' entire playbook for attacking human cells.
These early sequencing successes in turn led Michael W. Hunkapiller—then President of PE Biosystems, which made the leading brand of DNA sequencing instrument—to recruit Venter to run Celera—a new private company. Venter boldly declared to the media that Celera would decode the human genome using shotgun sequencing by 2001—ahead of the public consortium, sparking a contentious "race for the human genome."
Fast forwarding from his role in decoding the human genome—described as the single most important scientific breakthrough of modern times—Venter is Founder, Chairman, and CEO of the J. Craig Venter Institute (JCVI), a non-profit research organization with approximately 300 scientists and staff dedicated to human, microbial, plant, synthetic and environmental genomic research, and the exploration of social and ethical issues in genomics.
Venter is also Founder and CEO of Synthetic Genomics Inc. (SGI), a privately held company dedicated to commercializing genomic-driven solutions to address global needs such as new sources of energy, new food and nutritional products, and next generation vaccines. Recently Venter announced his latest venture, Human Longevity Inc. (HLI), "a genomics and cell therapy-based diagnostic and therapeutic company focused on extending the healthy, high performance human life span."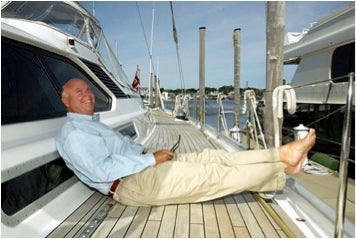 Venter relaxing on his 95-foot sailboat/research vessel named Sorcerer II. Photograph: Rick Friedman/Corbis (taken from theguardian.com via Bing Images).
Since 2003, scientists at the J. Craig Venter Institute have been on a quest to unlock the secrets of the oceans by sampling, shotgun sequencing and analyzing the DNA of the microorganisms living in these waters. In February 2014, the vessel embarked on a sampling expedition of the Amazon River and its tributaries, which contains 1/5th of the Earth's river flow.
Human Longevity: Genomics-Based Fountain of Youth?
The Fountain of Youth is a spring that supposedly restores the youth of anyone who drinks or bathes in its waters. Tales of such a fountain have been recounted across the world for thousands of years, beginning with writings by the Greek historian Herodotus. The tale was particularly prominent in the 16th century, when it became attached to the Spanish explorer Juan Ponce de León, who was searching for the Fountain of Youth when, in 1513, he traveled to what is now Florida.
Artistic rendering of Ponce de León accepting water from the Fountain of Youth (taken from tabuherbalsmoke.com via Bing Images).
Given this legendary history and our collective wish for healthy, long lives, it's not surprising that Venter's announcement earlier this year attracted widespread media attention and significant funding—to the tune of $70 million. A story in the NY Times refers to Venter as saying that the largest of the investors is K. T. Lim, a Malaysian billionaire who runs Genting Berhad, a gambling conglomerate. Venter adds that a 'not insignificant' part of the funding comes from Illumina—for reasons that will be appreciated by reading further.
The press release goes on to say that HLI's funding is being used "to build the largest human sequencing operation in the world to compile the most comprehensive and complete human genotype, microbiome, and phenotype database available to tackle the diseases associated with aging-related human biological decline." HLI is also "leading the development of cell-based therapeutics to address age-related decline in endogenous stem cell function."
In addition, HLI's "revenue streams will be derived from database licensing to pharmaceutical, biotechnology and academic organizations, sequencing, and development of advanced diagnostics and therapeutics."
Venter is quoted as saying that "using the combined power of our core areas of expertise—genomics, informatics, and stem cell therapies, we are tackling one of the greatest medical/scientific and societal challenges—aging and aging related diseases," and that "HLI is going to change the way medicine is practiced by helping to shift to a more preventive, genomic-based medicine model which we believe will lower healthcare costs. Our goal is not necessarily lengthening life, but extending a healthier, high performing, more productive life span."
HLI cofounder Peter H. Diamandis, M.D. puts this another and trendier way, according to the NY Times, which quotes Diamandis as saying that the goal was not to make people live forever, but rather to make "100 years old the next 60." The NY Times goes on to say that "Venter, who is 67, sounds as if he might not need the company to succeed. Quoting Venter, "I feel like I have at least 20 or 30 years left in my career."
HLI's humongous database-to-be will surely be, in my opinion, a prime example of Big Data—itself a "hot trend." It aims to have genomic sequences from "a variety of humans—children, adults and super centenarians [i.e. people who have attained the age of at least 110 years>
and those with disease and those that are healthy," according to the press release.
Illumina Looms Large in Longevity's Plans
HLI has initially purchased two Illumina HiSeq X Ten Sequencing Systems (with the option to acquire three additional systems) to sequence up to 40,000 human genomes per year, with plans to rapidly scale to 100,000 human genomes per year.
Let me repeat this to be sure you don't think these are typos.
40,000 and then 100,000 human genomes per year!
As pictured below, each of these newly introduced Sequencing Systems is comprised of ten—count them—instruments, which I've previously written about as enabling the long-elusive $1,000 genome cost target. Ironically, this goal was set by Venter as a technical challenge in 2002 at a now monumental TIGR conference.

Each Illumina HiSeq X Ten Sequencing System has a list price of $10 million.
Microbiome and Metabolome Data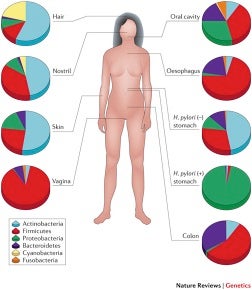 Relative proportion of sequences determined at the taxonomic phylum level at eight anatomical sites. High-throughput sequencing has revealed substantial intra-individual microbiome variation at different anatomical sites, and inter-individual variation at the same anatomical sites. Such site-specific differences and the observed conservation between human hosts provide an important framework to determine the biological and pathological significance of a particular microbiome composition (taken from nature.com via Bing Images).
Along with the genomic data gleaned from the sequencing of complete human genomes, HLI will also be generating microbiome data for many of these individuals through its Biome Healthcare division. The division is lead by Karen Nelson, who at TIGR led the first human microbiome study on the human gut published in Science in 2006.
The microbiome— a very "hot" trend in genomics research that I wrote about last year—consists of all the microbes that live in and on the human body that contribute to health and disease status of an individual. By better understanding a person's microbiome—from gut, oral, skin, lung, and other body sites—the company said that it "anticipates developing improved probiotics and other advanced diagnostic and therapeutic approaches to improve health and wellness."
HLI will also capture and analyze each individual's metabolomic data. The metabolome is the full complement of metabolites, biochemicals and lipids circulating throughout the human body. HLI has signed an agreement with Metabolon Inc., a diagnostic products and services company offering a biochemical profiling platform, to capture this information from each of the genomic samples that HLI is collecting. "Metabolomics is important because quantifying and understanding the full picture of circulating chemicals in the body can help researchers get a clearer picture of that individual's health status, and provide markers and pathways associated with drug action," according to HLI.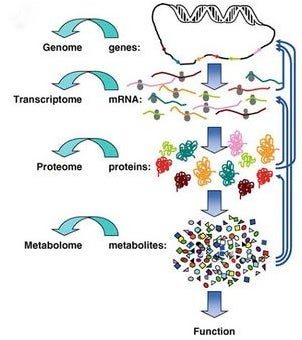 Schematic of the 'omic hierarchy: genomics, transcriptomics, proteomics, and metabolomics—yes, the figure leaves out a few others, e.g. epigenomics and phenomics (taken from schaechter.asmblog.org via Bing Images).
Stem Cell Therapies
This part of the company's multi-pronged strategy utilizing stem cell therapy advances is said to be "premised on the theory that as the human body ages many biological changes occur, including substantial changes and degradation to the genome of the differentiated, specialized cells found in all body tissues. There is also a depletion and degradation of healthy regenerative stem cell populations in the body over time. HLI will monitor the genomic changes which occur during stem cell differentiation, normal aging, and in association with the onset of disease."
In this regard, it's worth mentioning that TriLink BioTechnologies is a leading provider of biosynthetic modified mRNAs that encode factors used for cellular reprograming and regenerative medicine. Further information about these catalog products and custom services is available here.
Commercial Potential
Robert Hariri, M.D., Ph.D., who cofounded HLI with Venter and Diamandis, is quoted in HLI's press release as saying that "the global market for healthy human longevity is enormous with total healthcare expenditures in those 65 and older running well over $7 trillion." He adds, "we believe that HLI's unique science and technology, along with our business leadership, will positively impact the healthcare market with novel diagnostics and therapeutics."
Time will tell.
Personally, over the many years since Mike Hunkapiller introduced me to then "NIHer" Craig Venter, I've learned not to bet against him.
In closing, I should mention that Venter et al. are not the first to eye the commercial potential of longevity. Last September, Google's chief executive, Larry Page, announced that his company was creating an anti-aging company, Calico, which is being run by Arthur D. Levinson, the former chief executive of Genentech. Even earlier, Oracle's chief executive, Lawrence J. Ellison, had financed anti-aging research through his foundation. However, last December, Ellison announced this research would end due to a funding crunch.
Your comments are welcomed.