Introduction
Vaccines are typically manufactured in centralized facilities with large-scale production and purification capacities, requiring large capital expenditures and long lead times for construction and process development. Large numbers of clinical-grade doses of a single product are produced according to Good Manufacturing Practices (GMP) guidelines from the U.S. Food and Drug Administration (FDA) or other national regulatory agencies. Final products are then stored and shipped via complex global supply chains.
Centralized manufacturing is, however, problematic for producing vaccines to deal with regional endemic infections involving lower numbers of doses or local genetic variants. To address this serious public health issue, which also applies to other biopharmaceuticals, there has been much interest in decentralized or "on-demand" manufacturing, as indicated by the chart of such publications shown in Figure 1.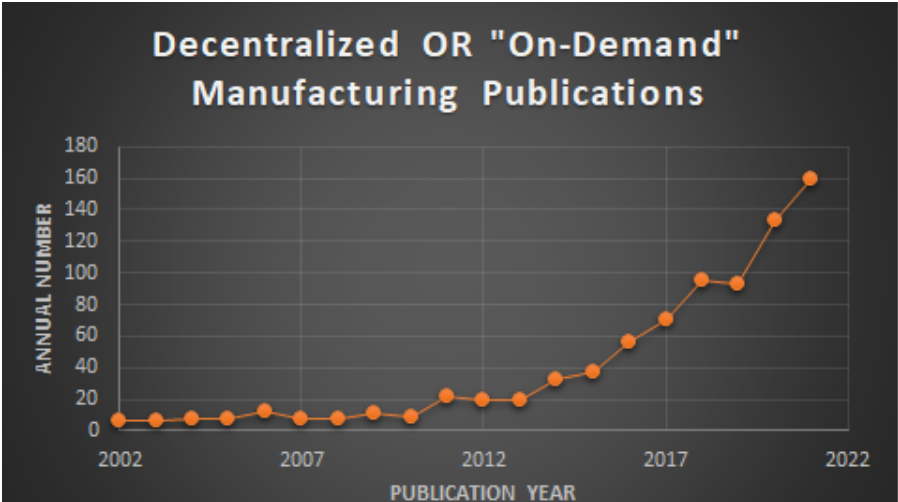 FIGURE 1. Publications in PubMed found by a search for the terms ((decentralized OR "on-demand") AND manufacturing) in all fields.
Notable progress toward decentralization includes an automated bench-top multi-product manufacturing system for end-to-end production of hundreds to thousands of doses of clinical-quality protein biologics in only 3 days (Crowell et al., 2018). Process development for protein sequence to the purified drug was achieved in only 12 weeks, with purity and potency comparable to the marketed reference products.
Comparable on-demand GMP manufacturing of vaccines comprised of in vitro transcribed (IVT) mRNA active ingredients is a relatively new endeavor, examples of which are discussed in the remainder of this blog. Among these is the highly automated on-demand production of IVT mRNA vaccines in a recently announced mobile modular "BioNTainer"—a portmanteau of the words BioNTech, the corporate developer, and container (Figure 2).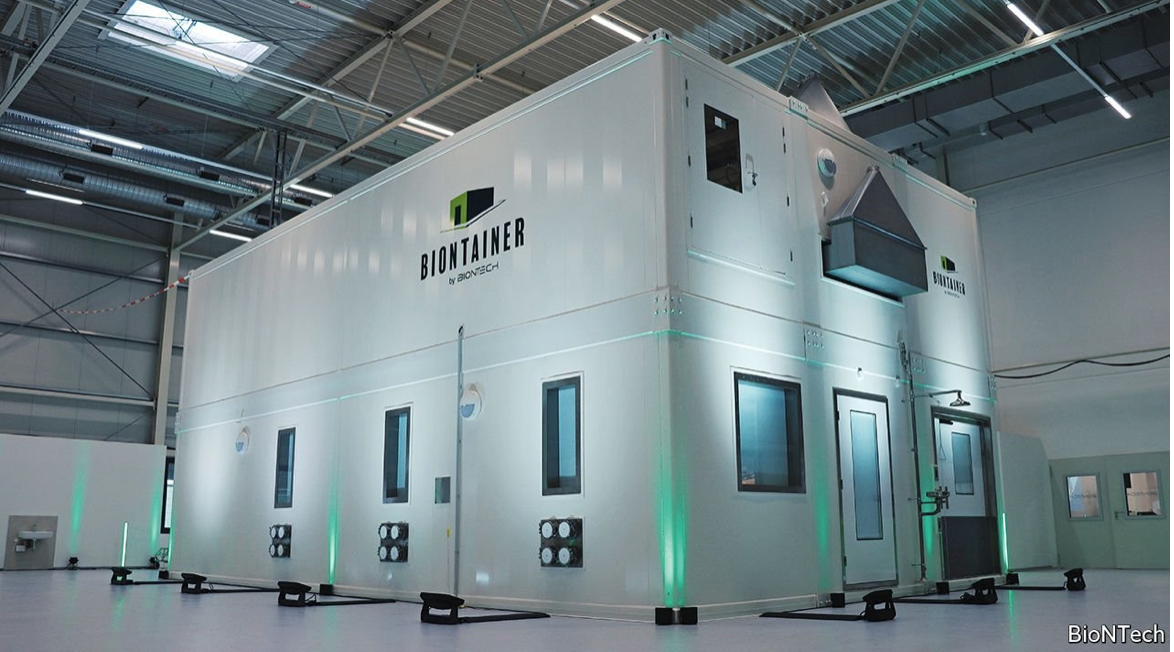 FIGURE 2. BioNTech's "BioNTainer" on display at the company's Marburg facility in Germany. Credit: BioNTech (with permission).


Decentralized Manufacturing of IVT mRNA Vaccines in Africa
According to an Editorial in the February 2022 issue of Nature, it took a pandemic for the world to learn that African countries import 99% of their vaccines. Africa has ten vaccine manufacturers, but most do not make a vaccine's active ingredients, and instead 'fill and finish' imported products. This lack of manufacturing is a principal reason why only ~10% of this continent's people have been fully vaccinated against COVID-19. 
That will soon change, thanks to radically innovative steps taken by BioNTech to democratize access to mRNA vaccines by shipping its BioNTainer modules to Africa by the end of 2022 for scalable vaccine production, according to a recent press release. The company will use its container to deliver 'turnkey' mRNA manufacturing facilities designed using its extensive expertise in efficient and very rapid mRNA design, IVT synthesis, and processing to afford GMP-grade bulk product, as announced earlier this year, highlights of which are as follows. 
This mobile manufacturing facility is comprised of one drug substance module and one formulation module; each called a BioNTainer and each having ISO standard container dimensions (2.6 m x 2.4 m x 12 m). The modules, which can be easily transported by air, sea, road, or rail, allow for mRNA vaccine production in bulk, i.e., mRNA manufacturing and formulation. However, local partners will take over fill-and-finish. Each BioNTainer is a self-contained clean room equipped with state-of-the-art equipment. Together, the two modules require 800 sqm of space and offer an estimated initial capacity of, for example, up to 50 million doses of the Pfizer-BioNTech COVID-19 vaccine each year. A video animation of BioNTainer interiors, assembly, and shipping is available.
The BioNTainer will be equipped to manufacture a range of mRNA-based vaccines targeted to the specific needs of the African Union member states, such as the Pfizer-BioNTech COVID-19 vaccine and BioNTech's investigational malaria and tuberculosis vaccines. The capacity can be scaled up by adding further modules and sites to the manufacturing network on the African continent. 
To this end, BioNTech announced the initial groundbreaking for an mRNA manufacturing site in Rwanda, with the end of 2022 as the target for delivery of the first set of BioNTainers. The initial location will become a 'node in a decentralized and robust African end-to-end manufacturing network'. All vaccines to be manufactured in the network will be dedicated to people residing in member states of the African Union. The company expects to set up additional BioNTainer factories in Senegal and South Africa in close coordination with its partners in the respective countries.
BioNTech stated that quality control is an especially critical part of the manufacturing process, which includes all necessary tests for each finished vaccine batch. In partnership with local quality control testing labs, BioNTech will help to ensure the identity, composition, strength, purity, absence of product- and process-related impurities, as well as the absence of microbiological contamination of each produced batch. 
BioNTech will initially staff and operate the facilities to support the safe and rapid production of mRNA-based vaccine doses under stringent GMP to prepare for the transfer of know-how to local partners to enable independent operation. Vaccines manufactured in these facilities are expected to be dedicated to domestic use and exported to other member states of the African Union at a not-for-profit price. 
In closing this section, it is important to note a February 2022 News article in Nature which reported that researchers at Afrigen Biologics and Vaccines in Cape Town, South Africa, replicated the process of reproducing Moderna's mRNA vaccine against COVID-19. Although the scale was very small and much more work is needed before administration to people, the achievement was said to be 'a milestone for a major initiative launched by the World Health Organization (WHO) — a technology-transfer hub meant to build capacity for vaccine manufacturing in low- and middle-income countries.'
Other Advances in Decentralized or Mobile Production of IVT mRNA Vaccines 
Independent of the design and implementation of BioNTainer modules, an international team of academic scientists and engineers have recently posted a preprint titled Mobile On-Demand (MOD) COVID-19 Vaccine Production Units for Developing Countries (Fahr et al. March 2022). In this work, they designed MOD vaccine manufacturing units based on in vitro co-transcriptional capping of mRNA previously detailed by TriLink to use its CleanCap® reagents (Henderson et al., 2021). Each MOD unit, which is comprised of two shipping containers (Figure 3), enables daily production of  ~10,000 sterile-filled vaccine doses, assumed to be 100 μg, formulated in lipid nanoparticles (LNPs) for what they state are competitive prices based on analysis of all costs and geographical analysis of end-use, assumed to be in Nigeria.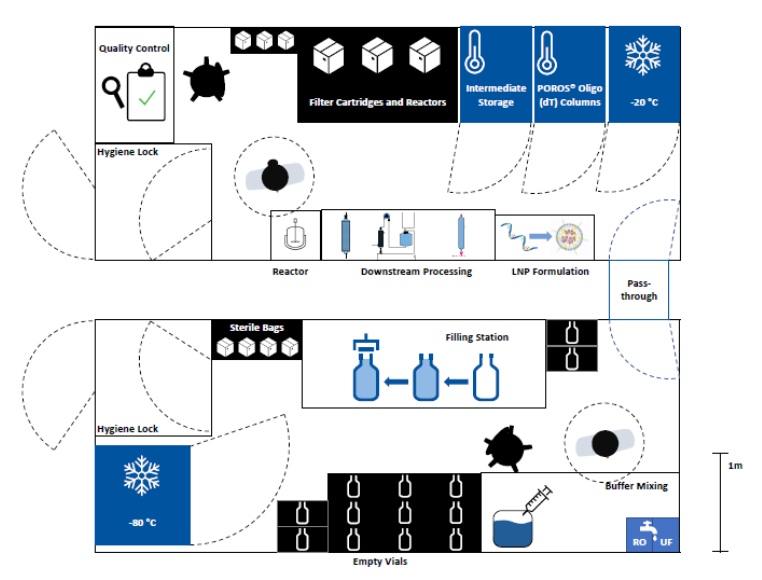 FIGURE 3. Schematic layout of the MOD containerized mRNA production unit comprised of two shipping containers. Consult Fahr et al. (2022) for details. Free to use under a Creative Commons Attribution 4.0 International License.
In a fundamentally different approach, hospital-based manufacturing of mRNA therapeutics has been realized at Houston Methodist  Hospital (HMH) in the Texas Medical Center, as reported in a recent preprint by Damase et al. The stated rationale for this is predicated on recognizing that mRNA-based therapeutic technology is a disruptive technology as it facilitates rapid development and clinical translation of novel solutions for previously 'undruggable' diseases. 
The HMH program encompasses all essential competencies for developing and translating mRNA-based drugs. The mRNA biology and bioinformatics groups innovate RNA design to enhance the stability and translational efficiency of mRNA constructs. A nanomedicine group helps in the generation of LNP formulations to deliver mRNA. The Office of Translational Production and Quality guarantees quality products for patients and provides in-house GMP facilities with clean rooms. An Office of Regulatory Affairs aids with developing the regulatory roadmap and interactions with regulatory bodies.
Last but not least, the U.S. Military Defense Advanced Research Projects Agency, which has a long history of supporting highly innovative research, announced in 2021 its Nucleic Acids On-demand Worldwide (NOW) program to allow for rapid and distributed manufacturing of nucleic acid-based medical countermeasures. The stated rationale addresses that the U.S. military routinely deploys worldwide and can be exposed to regional endemic diseases and biological threats. Rapid access to medical countermeasures against these threats is critical to protect the military and local civilians; however, manufacturing, stockpiling, and distribution issues remain.
The NOW program aims to develop a small shipping container-based manufacturing platform to rapidly produce, formulate, and package hundreds of doses of nucleic acid therapeutics in days. The system is envisioned for the end-to-end synthesis of GMP-quality material, even in 'austere environments.' Phase 1 (36 months) will investigate new bio/chemical methods to synthesize nucleic acids and explore downstream purification, analysis, and formulation of the newly synthesized material. Phase 2 (12 months) will focus on system integration to finalize a contained, end-to-end mobile manufacturing platform. In coordination with the U.S. FDA, Phase 3 (12 months) will involve a human clinical study comparing a NOW-derived product with traditionally manufactured material. Contracts have been awarded to Moderna and GE Research to advance the program's goals.
Concluding Comments
Small-scale on-demand mRNA production can also be achieved in a do-it-yourself (DIY) manner using an automated synthesis system and mRNA synthesis kit from Codex DNA, which provides reagents for all of the steps from DNA template synthesis through mRNA synthesis and purification. Trilink's CleanCap® AG (3'OMe) can be used with either modified of unmodified nucleoside triphosphates. While the scale of synthesis provides ~10 μg of mRNA, users can readily transition to larger scales for preclinical or clinical studies through Trilink's CDMO/GMP services.
DIY formulation of DIY or custom synthesized mRNA in LNPs can be automatically performed at various scales utilizing equipment from Precision NanoSystems. 
Your comments are welcomed, as usual.
Please feel free to share this blog with your colleagues or on social media.