Mitochondrial DNA Replacement to Preclude Mitochondrial Disease Shown Feasible in Monkeys

US FDA Advisors Ponder Pros and Cons for Allowing Human Clinical Trials Amidst "Designer Baby" Concerns

UK Government Decision "Up in the Air"
Prologue
Before jumping into the headline and bylines of this post, I thought it would be worth sharing TriLink's connection with mitochondrial DNA (mtDNA), as well as provide a bit of background about mtDNA and diseases related to it.
TriLink recently introduced its mitochondrial DNA (mtDNA) PCR-sequencing primers (mitoPrimers™) and mtDNA master mix for forensic science and casework. These products have been used by several well-known experts in mtDNA forensics, including Prof. Rhonda Roby, a well-known expert in mtDNA forensics. Prof. Roby's expertise in mtDNA sequencing extends beyond forensic applications to academic interests in disease-related mtDNA dysfunction, as described in her recent publication in Nature Scientific Reports.
To better understand those interests, I researched mtDNA diseases at an NIH.gov website and found that, while mtDNA is only a "tiny" (~16,569 base-pairs) genetic component compared to genomic DNA (~2 billion base-pair), and encodes only 37 genes compared to ~20,000 genes for genomic DNA, the list of mtDNA related diseases is lengthy.
The vast majority (90%) of the energy needs of the human body are provided by mitochondrial oxidative phosphorylation that takes place entirely in mitochondria, and is a highly efficient system for producing the energy required to maintain the structure and function of the body. Consequently, according to the NIH.gov website, mutated mtDNA disrupts the mitochondria's ability to efficiently generate energy for the cell, leading to organ-related health conditions. These conditions can be serious and are most pronounced in organs and tissues with high energy requirements, such as the heart, brain, and muscles. Frequently observed symptoms include muscle weakness and wasting, problems with movement, diabetes, kidney failure, heart disease, loss of intellectual functions (dementia), hearing loss, and abnormalities involving the eyes and vision.
Taken from "Powerhouse Rules: The Role of Mitochondria in Human Diseases," online coursework at MIT (ocw.mit.edu) via Bing Images.
The image (right) depicts multiple copies of circular mtDNA that reside in mitochondrial organelles external to a cell's nucleus (in blue), which contains genomic DNA. Whether or not these organelles evolved by free-living bacteria that were taken inside a human cell-to-be (aka endosymbiotic theory) is an evolving—pun intended—debate worth reading about if you're intrigued—as I am—by pondering how our cells came to be what they are.
Interestingly, women's egg cells have many copies of mtDNA while men's sperm cells have just enough to enable it to swim to the egg and fertilize it. The mtDNA of the sperm usually disappears once fertilization occurs. On the other hand, the mtDNA of the egg pass on to all of a woman's children (male and female), but only women pass on their mtDNA from generation to generation. This maternal aspect of genetics is depicted in the cartoon below, posted by genetic-ancestry company 23andMe to celebrate Mother's Day.
Unfortunately, we might not always be thanking Grandma for her mtDNA. In her daily blog, Mighty Mito Mom, Amy Boyd chronicles the challenges and experiences as a Mom whose daughter—affectionately called Little Miss Mollypop—has a mitrochondrial disease. I also found numerous YouTube videos that give a real sense of how families struggle with mitochondrial disease, such as this poignant example involving three generations affected by mitochondrial-related conditions. These examples raise the question, can something be done to preclude mtDNA disease by substituting "good mtDNA" for "bad mtDNA" during in vitro fertilization (IVF)?
The answer is yes, but the process involves what some view as three parents—two females and one male. As you may imagine, the procedure prompts considerable concern and controversy.
Mitalipov's Mitochrondrial Manipulations
I've "borrowed" this catchy alliterative heading from the title of a March 2014 NY Times story. The article is by Sabrina Tavernise about Oregon Health and Science University Dr. Shoukhrat Mitalipov, who has developed a procedure to help women conceive children without passing on their mtDNA genetic defects. Salient snippets of this article are as follows, including this self-charactrization by Mitalipov: "my colleagues, they say I'm a 'mitochondriac,' that I only see this one thing. Maybe they are right."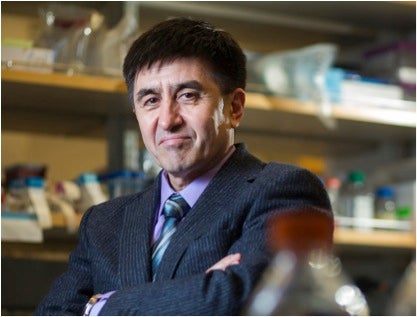 Dr. Mitalipov, 52, has shaken the field of genetics by perfecting a version of the world's tiniest surgery: removing the nucleus from a human egg and placing it into another. In doing so, this Soviet-born scientist has drawn the ire of bioethicists and the scrutiny of federal regulators. Credit Leah Nash, NY Times.
About one in 4,000 babies in the US is born with an inherited mitochondrial disease. These diseases are terminal, there is no known treatment, and few of these afflicted children live into adulthood. Women who carry mtDNA mutations are understandably eager not to pass them to their children. Remember, although sperm carry mitochondria, they are usually degraded shortly after fertilization, so mitochondrial diseases are passed down through the mother. Dr. Mitalipov's procedure (shown below) would allow these women to bear children by placing the nucleus from the mother's egg into a donor egg whose nucleus has been removed. The defective mitochondria, which float outside the nucleus in the egg's cytoplasm, are left behind, thus eliminating the possibility of passing along defective mitochondria.
Those of you interested in Mitalipov's published feasibility results with human oocytes can read a 2013 report in Nature, and a 2014 review of promises and challenges in Fertility and Sterility entitled "Three-parent in vitro fertilization: gene replacement for the prevention of inherited mitochondrial diseases."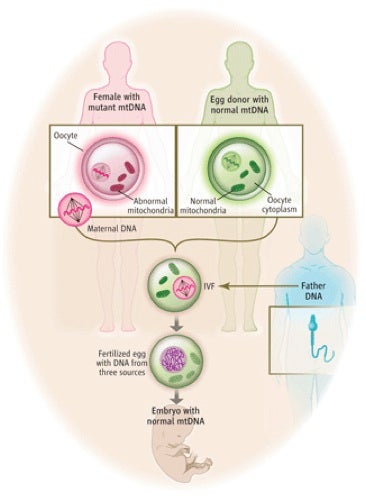 Mitochondrial DNA replacement could help carriers of severe disease have healthy children. Credit K. Sutliff, Science.
Are "Designer Babies" on the Horizon?
While some advocates of this procedure say it's a "major breakthrough,"others aren't as enthusiastic since the resulting baby would carry genetic material from three parents—the mother, the host egg's donor and the father—an outcome that ethicists have deplored.
That specter drew critics from all over the country to a hotel in suburban Maryland in February 2014. It was here that Dr. Mitalipov tried to persuade a panel of experts convened by the FDA that the procedure, which he has pioneered in monkeys, was ready to test in people.
Some experts voiced concerns about unintended consequences, such as introducing new genetic mutations into the human gene pool. Others warned that it could be used later for something ethically murkier—perhaps, said Marcy Darnovsky, executive director of the Center for Genetics and Society, "to engineer children with specific character traits."
Darnovsky's assertion of a slippery slope situation possibly leading to "designer babies" is not new, and can be read about in a lengthy Science perspective entitled Stirring the Simmering "Designer Baby" Pot written by Thomas H. Murray. The metaphorical "pot" that he refers to ties Mitalipov's proposed procedure to a 2013 patent granted to 23andMe—a controversial want-to-be genetic testing company currently foiled by the FDA. This "hot button" patent covers genetic calculations that enable would-be parents "to select a donor and view other possible phenotype of the hypothetical child resulting from the recipient's and the donor's gametes."
Dr. Mitalipov waved off those warnings, according to Tavernise, by noting that mtDNA comprises just 37 genes, which direct the production of enzymes and molecules that the cell needs for energy. Those genes, he says, have nothing to do with traits like eye and hair color, which are encoded in the nucleus. She quotes Mitalipov as saying that "there are always people trying to stir things up. Many of them made their careers by criticizing me."
"Suspended Animation"
In his Science perspective, Murray observes that "it is unrealistic to expect the US policy lacuna [gap or missing piece>
over assisted reproductive technologies to be filled any time soon. Regulation of preimplantation genetic diagnosis remains in a 'state of suspended animation'—according to a cited publication.
He adds that "professional self-regulation likely works well when the interested professions reflect a well-established public consensus. But when it comes to empowering parents to decide what sort of children they have beyond questions of serious childhood diseases, professional organizations cannot even agree on the appropriate ethical framework."
Murray concludes by stating that "discussion of the ethics of mitochondrial manipulation cannot be postponed indefinitely. With little prospect of sensible legislation in the near term, and conflicting guidance from professional organizations, a national conversation about current and emerging technologies shaping the choices that parents will have is urgent. The UK conducted a similar exercise a decade ago that combined polling, focus groups, and the Internet."
Status of mtDNA Replacement in the UK
In Britain, the government has issued draft regulations that would govern clinical trials of mtDNA replacement in people. If accepted into law by Parliament, such trials (which are now banned), would be allowed to go forward, although regulators would have to license any clinical application.
Polly Toynbee of The Guardian reported in February 2014 that, while a year has passed since the public was consulted at extraordinary length on the ethics of mtDNA replacement to prevent the birth of children with incurable genetic diseases—with most of the public saying yes, go ahead—the government has "dragged its feet."
Inquiring about its progress with the Department of Health a couple of weeks before drafting her report, the answer was, "it's up in the air." Pressed on the question the day before publishing, she was told that draft regulations may appear next month. But the public will have to be consulted again, for a further three-month period. Polly opined that, since this procedure "arouses deep passions, plentiful responses are expected" and it will take yet more months to consider them. Doubts remain about the government's eagerness to push this through parliament, rousing a controversy close to the general election, she added.
My comment is that difficult policy decisions and political party concerns for reelection seem to be similar on "both sides of the pond," as the UK and the US are referred to.
Newcastle University neurologist Prof. Doug Turnbull, who is co-leading investigations with embryologist Dr. Mary Herbert, has been putting pressure on the government to prepare legislation that will allow experts in Newcastle to use human embryos containing DNA from three people to be used in clinical treatment, according to an earlier report.
Ms. Toynbee points out that the Human Fertilization and Embryology Authority (HFEA) conducted its scientific review of the procedure's safety and efficacy and concluded back in 2011 that it would be unethical for the government not to press ahead, to prevent any more needless suffering. Toynbee was a member of the HFEA's oversight group that supervised a massive public consultation, ensuring these complex issues were fairly aired and comprehensible to all.
Overall, the public was in favor, she says, and adds that when randomly selected people looked at the evidence they didn't think this was a slippery slope that would lead to "designer babies," or that it amounted to "three-parent IVF," as there is no genetic effect on identity. The HFEA recommends that mitochondria are treated like tissue, a kidney for example—so donors would not be considered 'parents.'
She adds "parliament is often less rational than the public. Stuffed with the religious and rabble-rousers who stir up fears of Frankenstein babies, many in both houses will make noisy speeches, ignoring the science." That despite an estimated 73 people dying each year from mitochondrial disease, many of them children. The impact is even greater when you consider that some mitochondrial diseases go undiagnosed and that over 2,500 women of child-bearing age carry faulty genes - putting their children at risk.
Ms. Toynbee concluded her story by saying that "just as I reach the end of writing this, a call comes from the Health Department: it wants me to know that it is still absolutely committed, and regulations will be out soon. Why the year's delay? Ah, um. When will the regulations go to parliament? 'By the end of the year' was the reply. Left so close to the election, let's hope No. 10 strategists don't veto it."
As always, your comments are welcomed.
Postscript
After writing this blog, The New York Times Magazine featured a lengthy cover story by Kim Tingley entitled One Child, Three Parents. Also, a lengthy and freely available article by Ewen Callaway was published in venerable Nature magazine. Overall, the same pro and con issues are presented by Callaway, along with simplified diagrams showing methodological differences between pronuclear transfer and maternal spindle transfer techniques for genome transfer to prevent children from inheriting their mother's mutant mitochondria. I found this article's lead-in graphic (credited to Vasava) show below to be symbolically riveting and worth sharing here.