Once Only a Dream, Nanopore Sequencing is Now Reality

Oxford Nanopore Technologies MinION Sequencer Apps Spotlighted  

Fully Automated Sample Prep and Higher Throughput Coming Soon
Dream Messenger oil painting by Leszek Andrzej Kostuj with nanopore-like eyes. Taken from ufunk.net.
I don't really know who first dreamt the exciting idea of moving DNA through a nanometer-sized pore to read sequence as electronic blip-like signals, but lots of folks are glad that someone did because this seemingly impossible dream is now reality.
My initial close encounter with this almost alien idea—pun intended—happened in 1998 when I first read about it in a patent by George Church (my recent blog-pick as The Most Interesting Scientist in the World), David Deamer, Daniel Branton, and others jointly assigned to Harvard and the University of California. This patent was filed 20 years ago on March 17, 1995 so St. Patrick's Day should share with what I hereby suggest as annual Nanopore Sequencing Day.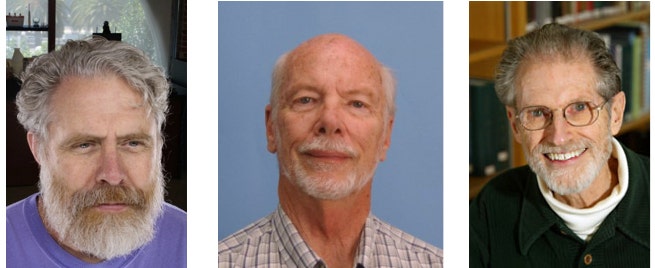 George Church, David Deamer, Daniel Branton
The prophetically envisaged system pictured in the patent as shown below, without supporting data, was deceptively simple but devilishly fast. It could read roughly a million bases per second, so reading ~3 billion based pairs comprising a human genome could be done in about 100 minutes—as opposed to multiple years it took by then conventional methods. But since the devil is in the details, it's not surprising it took nearly 20 years to get this idea to come to fruition.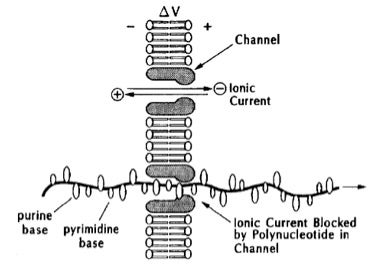 Cartoon depicting nanopore sequencing of DNA in US patent 5,795,782.
Deamer the Dreamer
Before trying to convince you that nanopore sequencing actually works, I'll offer the suggestion that Deamer was the dreamer—alliterative pun intended—of this whole fantastic idea. I say this based on his then long-time research on membrane channel biophysics, and his being the designated corresponding author on the first publication on nanopore analysis of polynucleotides in 1996. However, I hasten to add that this was coauthored by Branton et al. and acknowledge related work by Church et al., so maybe the saying "great minds think alike" equally applies to dreams. But I digress…
Hagan Bayley and My "Could Have" Moment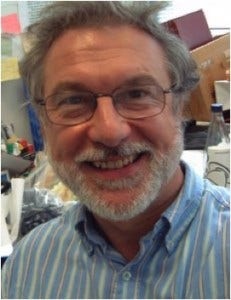 Hagan Bayley has many good reasons to be smiling. Taken from research.chem.ox.ac.uk.
My personal backstory on nanopore sequencing is that in a former life I was the primary scientific scout at ABI for scouring the literature to identify the most promising approach to commercialize sequencing. In doing so, visits and discussions with professor Deamer at UC Santa Cruz, led me to contact professor Hagan Bayley, whose nanopore research at the University of Oxford looked attractive to me as a "high-risk, high-return" research program to fund—if even at a modest level. I invited him to visit ABI and shortly thereafter, Hagan politely turned down our funding, saying that he had obtained "more substantial support from another source," ultimately leading to a university spin out in 2005 named Oxford NanoLabs Ltd. (renamed Oxford Nanopore Technologies (ONT) in 2008). ONT currently employs more than 150 persons and has raised about $275 million in multiple rounds of funding—hardly a modest amount. Oh, if only I would have had the resources to offer more significant funding!
In any case, if you happen to be interested in the evolution of the underlying technology, you should definitely check out recently published personal perspectives by professor Bayley entitled—appropriately—Nanopore Sequencing: From Imagination to Reality.
Tiny but Mighty Powerful MinION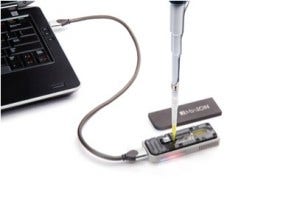 Pipet loading a MinION connected to a laptop. Taken from bioitworld.com.
ONT offers an access program for its first commercial sequencer named MinION, which is amazingly small—about the same size as a USB memory stick—and interfaces with a laptop for both control and data acquisition. It's also remarkable that this sequencing takes place in real time, thus enabling exciting, new point-of-need/care apps. Before I mention one such example, here are some comments on how this very cool gadget works.
MinION's operational mode and performance have been largely kept under wraps, so to speak, until a recent publication by Jain et al. in highly respected Nature Methods in April 2015. This paper primarily deals with M13 genomic DNA as a known reference sequence to assess base calling accuracy. Especially interesting to me—and hopefully you—is the way DNA is prepared for sequencing first one strand and then its complement, as depicted below. This leads to improvement over previous accuracy, but at 85% is still very low compared to other established sequencing methods.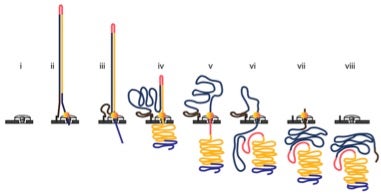 Steps in DNA translocation through the nanopore: (i) open channel; (ii) dsDNA with lead adaptor (blue), bound molecular motor (orange) and hairpin adaptor (red) is captured by the nanopore; capture is followed by translocation of the (iii) lead adaptor, (iv) template strand (gold), (v) hairpin adaptor, (vi) complement strand (dark blue) and (vii) trailing adaptor (brown); and (viii) status returns to open channel. Taken from Jain et al. Nature Methods 2015.
Those of you who, like me, are really fascinated by MinION sequencing or simply want to watch the real thing in real time, as it were, can take advantage of a YouTube video produced by Nick Loman. Nick is a bioinformatician at the University of Birmingham, U.K., and is quite active in MinION and other types of sequencing. This video runs for about 2 hours but you can speed through sections as you wish. Equally fascinating is a recent publication about sample prep for this system that provides details for investigations wherein researchers compared results for various sample prep methods that have now enabled occasional extraordinarily long (>100kb) sequence-reads.
MinION Point-of-Need/Care Use in the Field
The amazingly small size and laptop compatibility of MinION makes it ideal for emerging applications collectively referred to as point-of-need (or point-of-care) use in the field.  Recently, a team including professor Joshua Quick (University of Birmingham, UK) and Ana Rodriguez Prieto (pictured below) flew to Guinea, Africa with luggage that included three MinIONs. Over the course of 12 days, they used the MinIONs to sequence genomes of Ebola viruses from 14 local patients in hopes of tracing the sources of infection. Each sequencing read was completed within 48 hours of collection, an amazing feat for epidemiologists working in the field.
Loading Ebola DNA sample for MinION real-time sequencing; credit MUSE/Science Museum of Trento.
Additional point-of-care projects using the MinIONs are already underway, including other exciting field-usage mentioned in this story or which I found online:
MinION-based treatment center in Coyah, Guinea run by the European Mobile Laboratory Project

Italian biologists carried MinIONs and other equipment into a rainforest in southern Tanzania to sequence the genome of a native frog

Karen James at the MDI Biological Laboratory in Bar Harbor, Maine wants to put MiniIONs in the hands of "citizen scientists" to survey bio­diversity in Maine's Acadia National Park

Quick et al. used MinION sequencing to serotype Salmonella in a hospital outbreak in real-time after only 20 minutes of a DNA library being loaded
MinION Long-Reads Proven Useful
Utility of MinION long-reads for haplotyping for "medically actionable" findings has been recently reported by a team of Canadian researchers. While conventional sequencing reads are too short to resolve some haplotype information that then has to rely on statistical analysis, very long reads from a single 24-hour MinION run allowed reconstruction of haplotypes for HLA-A, HLA-B and CYP2D6 genes important in determining patient drug response. The authors concluded that these results "demonstrate that nanopore sequencing is an emerging standalone technology with potential utility in a clinical environment to aid in medical decision-making." 
In another example, MinION sequencing data from a single 18-hr run was used to create a scaffold for an assembly generated from short-read Illumina data. This enabled resolution of the structure and chromosomal insertion site of an antibiotic resistance island in Salmonella Typhi Haplotype 58. The authors concluded that these findings "demonstrate the potential of the MinION device in clinical laboratories to fully characterize the epidemic spread of bacterial pathogens." 
Slick Sample Prep and Higher Throughput on the Horizon
At London Calling held in mid-May of this year by ONT, participants in the MinION access program shared their experiences—absent press reporters, who were not allowed—and were told about ONT's new products to be released in the near future. Some of this information is now available on ONT's website, from which I've selected the following juicy tidbits.
New sample prep system, Voltrax, is a palm-sized, cartridge-based device for automated sample prep with the stated goal of getting sample preparation down to only 10 minutes "without the need for human intervention," which if achieved would indeed be very, very impressive—in my opinion. According to ONT, "[t>

his miniaturized laboratory will use technology common to consumer electronics, adapted for molecular biology…[and>

have the capacity to process multiple samples at a time."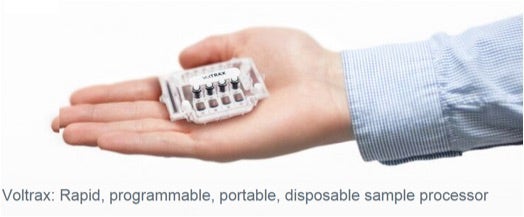 An up-scaled version of MinION named promethION—presumably a play on words involving Prometheus—that is a high-throughput, small-footprint benchtop instrument about the size of a PC notebook although several inches thick. According to the ONT website and what's said in a video therein, this system is comprised of 48 MinION-like flow cells that will allow users to employ "tens of thousands" of nanopores to sequence up to 48 different samples in parallel or fewer samples at greater depth of coverage. This sample vs. depth flexibility is akin to what is offered by established sequencing systems.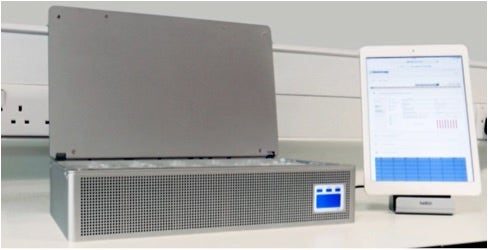 A London Calling-related Tweet stated '[p>

ricing plans were a big topic, with a new 'pay-as-you go' structure announced. Under the pricing scheme, using a MinION will cost $20 for the first hour with a data output of about 5 Gigabases (Gb). The MinION Access Program (MAP) will continue as the means by which Oxford Nanopore is making its products commercially available for the time being."
I know I'm a little giddy with excitement about the promosing future of nanopore sequencing so I'll temper that with a comment about availability. While I understand the need to keep productization tightly controlled and closed via ONT's access program (presumably as a way of so-called "damage control" from thumb-happy unsatisfied users in this age of social media), I wonder why more of splash hasn't been made in the market given the system's promosing initial results. If I were an ONT investor, I'd be getting somewhat concerned about why there has not been a full-scale, unfettered global launch of MinION to generate maximum revenue potential.
Out of This World MinION Sequencing
Having begun this blog about whomever dreamt up nanopore sequencing, it's apropos to conclude along the same line, but now adding that that "Deamer's dream" did not include—dare I say extend—to outer space beyond our world. Well, ok, maybe it did but that's not the point, which is rather to say that a NASA team is readying MinION for sequencing tests aboard the International Space Station (ISS) pictured below. This literal out-of-the-world app for MinION is scheduled for launch in May 2016. The goal is to have ISS astronauts test MinION in microgravity, as a possible prelude to future use on Mars to look for molecular signs of life—about which I've previously commented in a blog entitled Sequencing DNA on Mars – Science Far Out or Far Out Science? It seems like that's not so far out after all.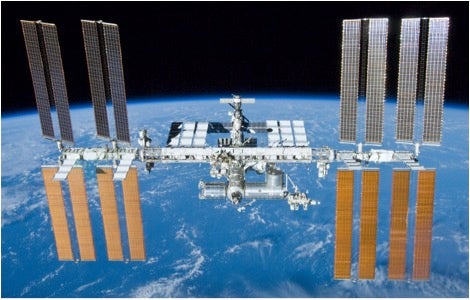 International Space Station (ISS). Taken from wikipedia.org.
The Larger World of Tiny Nanopores for Sequencing
Although I've focused my comments on ONT, I want to conclude by noting that there other proposed formats for nanopore sequencing, and many competing research groups in both academic and commercial settings that comprise this exciting, forward looking field.   While these are far too many to discuss here, I encourage you to take advantage of a really great website called—appropriately—The Nanopore Site. This site provides links to 14 (!) nanopore companies and ~100 (!) academic labs, plus information about everything nanopore including job postings and upcoming events. In addition, you can view all of the exciting nanopore activities via an interactive map, which you can follow on Twitter @TheNanoporeSite.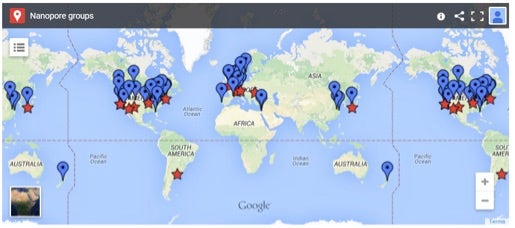 Screenshot taken from The Nanopore Site showing academic (blue) and company (red) labs.
Does nanopore sequencing excite you as much as it excites me? If so, please use the Comments section below to let me know your thoughts about nanopore sequencing or anything related to this fascinating approach to analysis of nucleic acid and other biopolymers.
Oh, BTW, please do dream of great new ideas because what you dream may become reality!