Ubiquitome Quickens Pace of POC Apps for Its Freedom4

Cepheid Unveils its POC Diagnostics System

Hopkins Crew Brews "Coffee Mug-Sized" Gizmo for Fully Automated Chlamydia Testing
Kiwi Dr. Jo-Ann Stanton holding Ubiquitome's Freedom4 at Tri-Con 2015
Regular readers of this blog will recall a recent byline exclaiming "Honey I Shrunk the qPCR Machine", which spotlighted the unveiling of startup company Ubiquitome's first point-of-care (POC) product—Freedom4—developed in New Zealand. Up until then, this far away—for me—exotic island country brought to mind folks fondly nicknamed Kiwi—after the native flightless bird, not Chinese fruit. Mightily impressed by this tiny but powerful qPCR device, I vowed to thereafter keep an eye on these Kiwis' democratized POC apps enabled by its nifty handheld 4-sample high-performance qPCR device.
Following are a few updates on Freedom4 apps, as well as news about Cepheid's big entry into POC with its small device—pun intended. To round out these "2.0" updates, I've included breaking news from John Hopkins University about a gizmo utilizing smartphones—a trend featured here in a previous post.
Kiwis Quicken Pace of POC Apps for Freedom4
Farm to Supermarket. I've previously commented on the need for DNA-based testing of food to ensure authenticity, prevent fraud, and detect the presence of possible pathogens. Transporting food samples to centralized labs takes time, adds expense, and becomes impractical in many instances. Small, portable devices to do this at farms, a variant of POC perhaps better called point-on-need, are therefore viewed as the way of the future.
Ubiquitome recently announced its foray into this on-the-farm field—pun intended—by partnering with AsureQuality to develop an app for mobile molecular food safety testing with its Freedom4 device pictured below. This is a potentially big deal enabled by this little device.

Loading four qPCR samples into Freedom4's slide-out, battery heated, thermal cycling block. Taken from ubiquitomebio.com.
AsureQuality is a relatively large—1,700 employee—commercial company that is 100% owned by the New Zealand government. The company provides food safety and biosecurity services to the food and primary production sectors in more than 40 countries. These apps are described as involving food safety testing from the farm right through to the supermarket shelf, and includes involvement in animal disease control and pest surveillance/management.
Paul Pickering, CEO of Ubiquitome says that this partnership "opens up multiple avenues to unlock customer value and realize the potential of ubiquitous genomic information." I fully agree with this, and now understand why the company chose the curious name Ubiquitome!
Small Size, Big Performance. Assuming you agree that "size does matter" for portable POC devices (proclaimed in Dr. Stanton's picture above), you'll undoubtedly agree that performance matters, too. At Tri-Con 2015, Dr. Stanton presented data showing Freedom4's performance was equal to a big benchtop system (Roche's LightCycler®). This impressed me very much, and provided the basis for Ubiquitome's recently announced POC Ebola virus-detection app.
Details for this POC diagnostics app, which is urgently needed in Africa following the most recent Ebola epidemic, are available in a poster but several key points are worth mentioning here. Access to Freedom4's simple, portable, battery operated device for Ebola testing in remote villages can help prevent future outbreaks by greatly reducing time from sample to result. Data obtained using the reverse-transcription quantitative PCR (qRT-PCR) app for detection of this (and other) RNA viruses needs to be as accurate as that obtainable in a centralized lab using conventional non-portable benchtop systems. This was achieved on a Freedom4 device using an assay that detects the Ebola strain of interest with sensitivity comparable to a benchtop system. In addition, there was high specificity—i.e. the assay did not amplify 2 other Ebola virus strains or 5 other viral pathogens known to be present in Africa.
CleanAmp™ Hot Start RT-PCR for Improved Multiplex Performance
Speaking of RT-PCR, I should point out for readers unfamiliar with viral or any other species RNA, that the RT step to quantitatively convert RNA into cDNA for subsequent PCR amplification is critically important. Examples and details for this conversion step have been reported by notable expert Prof. Stephen Bustin and coworkers in a Clinical Chemistry publication entitled "Variability of the reverse transcription step: practical implications."
In my opinion, this is a "must read" expose with Bustin's imprimatur as a highly respected thought leader in all facets of qPCR. When Bustin talks qPCR, people listen—including researchers at TriLink who met Bustin at a CleanAmp™ PCR poster several years ago. Impressed by this new technology invented at TriLink, he suggested applying it to the all-important hot start RT step. Long story short, CleanAmp™ dNTPs used in a hot start RT-PCR Master Mix was developed into a convenient one-tube format that gives performance for single-plex and multiplexed samples far superior to other widely used commercial products, as can be seen in Figs. 6-10 this poster.
A tip of the hat to Prof. Bustin, and now back to POC.
Cepheid Unveils a Portable Molecular Diagnostics System
On the other side of the world relative to New Zealand, California-based Cepheid—an established seller of qPCR diagnostic systems and assays—recently announced its first offering in the POC diagnostics space. This small device (pictured below) is only 9 inches tall, weighs a mere 2.2 pounds, and is the product of co-development with not-for-profit Foundation for Innovative Diagnostics (FIND) that started in 2006 and is expected to go on sale in late 2016.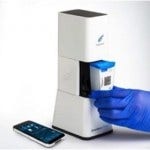 GeneXpert Omni. Taken from finddiagnostics.org
Like Cepheid's current diagnostics systems, GeneXpert Omni will reportedly offer the same high-quality qPCR performance as Cepheid's current systems, and similarly use the same type of cartridges capable of analyzing blood, sputum, tissue, and fecal samples. It—like Freedom4—can run on batteries, and can connect to Cepheid disease databases via Wi-Fi or mobile phone.
Oh, if you're wondering about price, each device reportedly will be available for about $2,895—low enough to likely achieve rapid growth in the global point-of-care market, and about 10-times cheaper than Cepheid's next higher priced system. I'm impressed, and hope you are too.
Coffee Mug-Sized Gizmo for Completely Automated Chlamydia Testing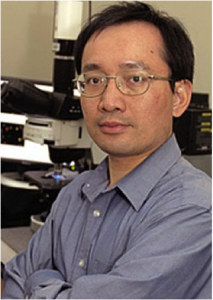 Dr. Jeff Tza-Huei Wang. Taken from solociencia.co
If you're thinking that POC devices can't get smaller or better, think again. A team of researchers led by Dr. Jeff Tza-Huei Wang at the Johns Hopkins University in Baltimore, Maryland have reported developing the first low-cost nucleic acid-based platform that can diagnose chlamydia at POC. The system, known as mobiLab, integrates sample preparation, DNA amplification, and data processing all in one "coffee mug-sized instrument."
This battery-powered device works by using a microfluidics cartridge to detect the DNA of chlamydia bacteria in genital swab samples. The DNA analysis unit is integrated with a smartphone, which enables the user to control the platform and process test data with an app. The self-explanatory schematic below (taken from Dr. Wang's impressive website—which I encourage you to visit) indicates generic features that devices like mobiLab might include.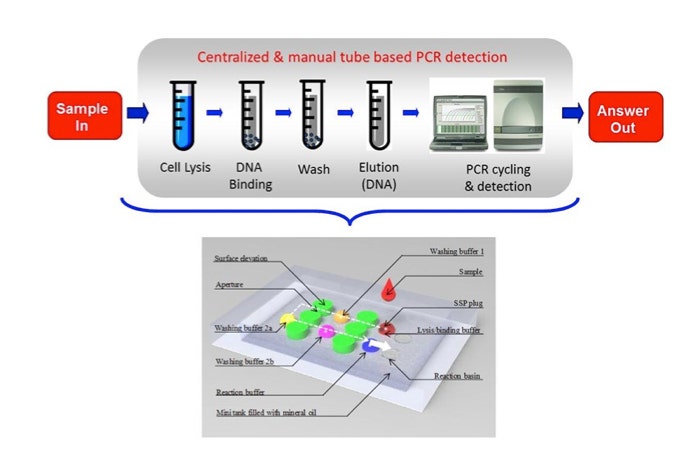 If you're questioning this nifty gizmo's ability to perform as well as it must for providing a robust chlamydia app, think again. mobiLab's developers validated the test's accuracy by comparing its performance with the GenProbe (now Hologic) Aptima Combo 2 assay, the gold standard test for chlamydia. After analyzing 20 patient samples using both tests, the researchers found that mobiLab and the Gen-Probe test both identified the same 10 positive and 10 negative cases.
Oh, if you're wondering—again—about price, each microfluidics cartridge used by mobiLab costs less than $2, which is about 10-times less expensive than similar commercial cartridges. I'm impressed—again—and hope you are too—again.
As usual, your comments are welcomed.