Polio Virus Accidentally Discharged by GlaxoSmithKline  

Anthrax Accidentally Shipped to Numerous Labs

New RNA Vaccines are Viewed as Much Safer and Better
Polio Virus Accidental Discharge
Polio virus is pretty but highly pathogenic. Taken from dr.marahimi.com.
The genesis of this blog about safer, better vaccines using RNA instead of pathogenic organisms was an incident that received very little attention in the US but was big news in Europe and—frankly—scared the bejeezus out of me. London-based GlaxoSmithKline (GSK) acknowledged in a report that its vaccine production personnel in Belgium dumped 12 gallons of liquid contaminated with poliovirus into the local sewage treatment plant and subsequently into the Lasne River. Yikes!
A spokesman is quoted as saying that there was "an accidental discharge of cleaning solution that had been used to sanitize equipment used in the manufacture of polio vaccine." However, chances of anyone developing polio from being exposed to the water were said to be very low, "given the high level of dilution and high level of public vaccination"—vaccination against polio is compulsory in Belgium. That may be true, but the issue is increasing safety, as you'll see from what follows here.
The fact that I'm old enough to have been among the hundreds of thousands of young children who received the first-ever batches of polio vaccine in the 1950s conjured up dim but frightening memories of seeing pictures of polio victims in "iron lungs" for assisted breathing. In those days, up to 650,000 (!) children per year were paralyzed by polio.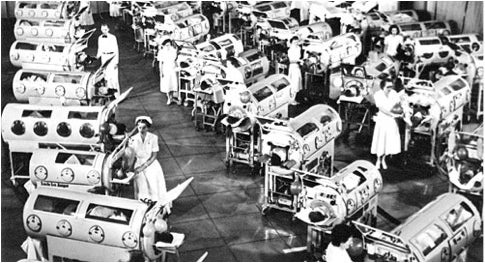 Nurses and young patients in "iron lungs". Taken from abigailpadgett.wordpress.com.
All of this led me to read the recently published book entitled Jonas Salk: A Life by Charlotte DeCroes Jacobs. I highly recommend it to those of you interested in the biography of the man who led the research team that developed the first effective polio vaccine eponymously named the "Salk Vaccine". Aside from learning details about Salk as a scientist—a controversial visionary of what would become the Salk Institute for Biological Studies—there were two competing strategies for vaccine development that become a race of big scientific egos. Salk championed use of injected formalin-fixed, killed virus while Albert Sabin—his arch rival—advocated an oral vaccine using live, attenuated—i.e. weakened—virus.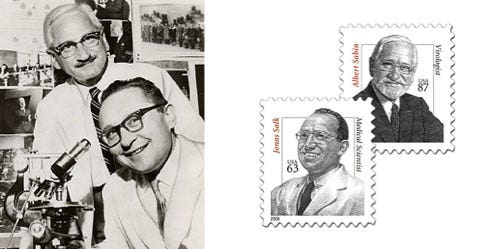 Jonas Salk and Albert Sabin seen smiling in the lab and in commemorative stamps were actually fierce scientific competitors. Taken from amhistory.si.edu and waydn.com.
You don't have to be a virologist to appreciate Salk's logic for preferring killed virus, since polio virus that was experimentally manipulated by Sabin to become weakened to the point of being non-infectious might unexpectedly revert back to its infectious phenotype. Children vaccinated with the latter would then be highly at risk of contracting polio.
On the other hand, Salk had to convince skeptics—like Sabin—that he could ensure adequate killing of the virus, despite a tragic incident in 1955 when insufficiently killed virus in the vaccine from Cutter Laboratories in Berkeley, California, infected some 200 children. Many were paralyzed and several died.
Nevertheless, it's widely acknowledged that pursuing a global end to polio transmission would have been inconceivable without both the killed and live vaccines. In the present patent-based—dare I say patent-crazed—world of biotech, it's interesting to note that neither Salk nor Sabin patented their vaccines, rights to which they donated—yes, donated—as gifts to humanity.
Anthrax Accidentally Shipped by US Army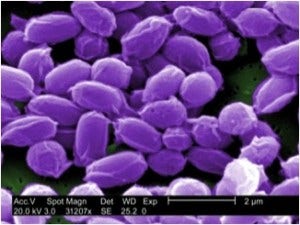 Scanning electron micrograph of anthrax bacteria; credit CDC. Taken from app.com via Bing Images.
The GSK spill in Belgium isn't the only mishap making headlines lately. As a former US/NIH scientist and current tax payer, I'm embarrassed and incensed, respectively, by ongoing revelations of US employee incompetency and/or lack of government lab safety protocols leading to inadvertent shipping of live anthrax to numerous labs around the world. Yikes, again!
The following details about the incident were reported by the Centers for Disease and Prevention (CDC) in mid-June 2015:
Live anthrax was in all samples mistakenly sent to 69 laboratories in 19 states, the District of Columbia and 5 countries.

These live samples were from labs that had received supposedly inactivated material from the Army Proving Ground in Dugway, Utah.

The military continues to test the more than 400 lots of supposedly dead anthrax it keeps at 4 military facilities.

No lab workers have shown any symptoms of possible anthrax infection, though 31 individuals have been protectively receiving antibiotics as a precautionary move.
While vaccines against the livestock and human disease anthrax—caused by the bacterium Bacillus anthracis—dates back to at least 1870 with Pasteur's pioneering anthrax vaccine for cattle, the presently used human vaccine hasn't evolved much since it's development by the Soviet Union in the late 1930s and in the US and UK in the 1950s.
The presently used vaccine approved by the FDA was formulated in the 1960s and all currently administered human anthrax vaccines—whether acellular (USA, UK) or live spore (Russia) are reported to show considerable local and general "reactogenicity" (erythema, induration, soreness, fever) with serious adverse reactions occurring in about 1% of recipients.
Given all of the advances in the sciences in the past 5+ decades, there must be a better option, right? I believe there is and it's in the form of RNA-based vaccines.
New RNA Vaccines: Safer and Better
If you're asking yourself whether there is ongoing research to develop new, better, and safer alternative types of vaccines, relative to whole-pathogen or recombinant live vaccines and recombinant sub-unit vaccines, Novartis researchers say "yes" in a recent review entitled RNA-based vaccines. I strongly echo that opinion, and have previously noted in a posting here last year that RNA has rapidly attracted huge financial investments in what I referred to as "RNA mania."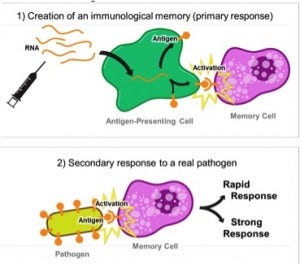 Vaccination with mRNA induces a primary response (1) by instructing the body's cells to produce an antigen that is presented to the immune system. This activates specific cells, which create a memory for this antigen. Later, when the real pathogen is present (2), those cells recognize the same antigen and react rapidly and strongly against the infectious agent (secondary response). Taken from sitn.hms.harvard.edu.
Recombinant DNA approaches were to have provided a better way, but after ~20 years of trying the success rate is abysmal and there are still concerns about unwanted genomic insertions. This issue is bypassed by RNA, which is now viewed by experts as the molecular solution to these issues for vaccines.
In a nutshell, RNA vaccines are composed of messenger RNA (mRNA) which encode antigen genes of an infectious agent, and when administered to host cells are translated into protein antigens that elicit protective immunity against the infectious agent, as pictured to the right.
Use of mRNA obviates need for working with an infectious organism per se and/or dealing with relatively old-style, cell culture-based manufacturing methods, which even now occasionally yield batches of contaminated vaccines. For example, the FDA reportedly sent a "scathing warning letter" in June 2014 to GSK—yet again at fault!—saying the company is not doing near enough to avoid contamination of influenza virus products being manufactured at one of its plants. GSK has had ongoing problems with bacteria at this facility and had to reject ~20% of its production just in 2014.
BTW, GSK—already the world's largest vaccine maker—is expanding its vaccine-making capabilities significantly by agreeing to buy most of Novartis' vaccine operations for $7.1 billion. Let's hope GSK cleans up its act, so to speak, lest more production issues lead to critical vaccine shortages due to failed QC—or even worse: administering bacterially contaminated vaccines.
Although administration of an mRNA vaccine such that there is effective delivery into target cells remains as a significant challenge (see below), mitigation of unwanted mRNA antigenicity and prolonging mRNA life-time have been successfully dealt with by polymerase-mediated synthesis of mRNA wherein A, G, C or U is replace by a synthetic modified base. In this regard, pseudouridine and 5-methylcytosine are notable among modified bases reported to be effective, and are among the many modified ribonucleoside triphosphates now offered by TriLink BioTechnologies for DIY synthesis of modified mRNA, or as custom modified RNA products manufactured in its new pharmaceutical GMP facility.
Ex-Vivo vs. Nanoparticle Delivery of AIDS-related mRNA
One of the promising areas of mRNA-based vaccines is in AIDS research. Given the importance of preventing further spread of AIDS that currently affects ~40 million persons worldwide, and the immunologically elusive nature its causative virus, HIV-1, development of a vaccine against AIDS is a very important—if not morally imperative—goal.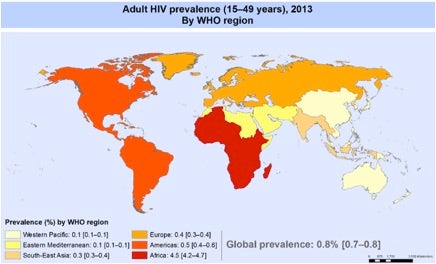 Taken from a World Health Organization (WHO) website.
Consequently, attention has been given to recent ex vivo delivery of HIV-1 mRNA to target dendritic cells removed from a patient's body which allows various types of facilitated delivery techniques, such as lipofection or electroporation, which might not be possible in vivo. Belgian researchers have reported that doing this followed by infusing volunteer patients with their own HIV-1 CD8-mRNA-treated dendritic cells led to significant immune responses. Unfortunately, however, after four such treatments every 4 weeks the viral load returned due to the ability of HIV-1 to mutate and "escape" the immune system.
An alternative and promising approach using AIDS-related antigens was recently reported by a team of Chinese researchers using a type of nanoparticle. In particular, self-assembled cationic nanomicelles based on polyethyleneimine-stearic acid copolymer were developed to delivery HIV-1 gag encoding mRNA to dendritic cells ex vivo and mice in vivo. Immune responses after sub-cutaneous administration of gag mRNA to mice were notably induced relative to "naked" gag mRNA. It was concluded that human clinical studies are warranted.
Is Measles Next?
This rhetorical question is the title of a "must read" feature article in the May 20, 2015 issue of venerable Science magazine by Leslie Roberts detailing medical and geopolitical debate about a global effort to fight measles vs. polio. Polio was not eradicated in 2000, as then thought, despite more than 30 years of effort and $11 billion in spending. Polio is still entrenched in India, Afghanistan, Pakistan, and Nigeria. This poses the real dilemma of which disease is to be fought with funding available for eradicating only one of two "evils."
Measles begins with cough-like symptoms then after 3-5 days a distinctive rash erupts starting on the face. Fever spikes and some kids in the U.S. are hospitalized, but for the majority, the rash fades and infection resolves in about a week. Unfortunately, more than half of the estimated 10 million persons infected with measles each year in the developing world—politically correct code for "poor countries"—fare far worse.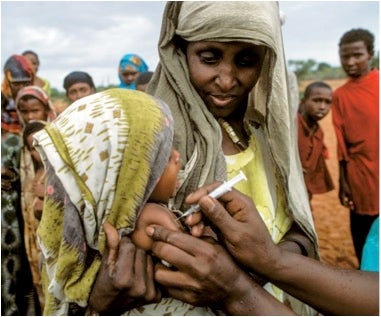 Kenya first mass measles vaccination campaign reached 13 million children in 2002. Taken from May 20, 2015 Science.
According to Roberts, a global initiative for mass vaccinations against measles largely stopped during the recent global recession due to loss of ~75% of its international funding. By 2011, cases of measles "exploded" in southern African countries and deaths had climbed back to 200,000—how sad.
Even in developed countries, measles cases have been on the rise due to the anti-vaccination movement. These "anti-vaxxers" were misled by a long-discredited link between autism and the measles, mumps, and rubella vaccine, and by mistakenly viewing measles as a mild disease. Roberts notes that the drop in immunization has actually reversed progress in Europe, which had 37,000 measles cases last year, and left the United States battling repeated importation—by visiting "carriers"—like the ongoing one that started in Disneyland in late 2014 that spread to 19 states and the District of Columbia.
This vexing anti-vaxxers situation was dealt with by a law in California signed by the governor in June 2015. Children are now required to be vaccinated unless there is a medical reason not to do so, ending exemptions for personal or religious reasons, routinely requested by anti-vaxxers, and makes California the largest state with such requirements along with West Virginia and Mississippi, which have had similar laws for years.
"Anti-vaxxers" believe vaccinations are matter of parental choice, not public health. Taken from ops.beforeitsnews.com.
As with many topics discussed in my blogs, only time will tell if mRNA-based vaccines prove to be a viable alternative and improve the safety and efficacy of vaccines. I'll keep you updated via future posts as developments continue in this exciting area of research. Your comments are welcomed, as usual.