Telomeres are DNA Biomarkers for Your Biological "Age"

Telomere Shortening Due to Stress was Expected During Spaceflight, but Exactly the Opposite has Been Found

Raising New Questions to Answer
After you read this blog about studying telomeres in space, I think you will agree with my opinion that scientific advances can sometimes occur amazingly fast. Telomeres (which are peculiar DNA structures that I'll explain below) went from esoteric Nobel Prize subject matter in 2009 to the focus of spaceflight science in just six short years. Now, telomeres are being investigated by PCR on the International Space Station (ISS)! With a wink and a nod to Star Trek, this is indeed "warp speed" progress!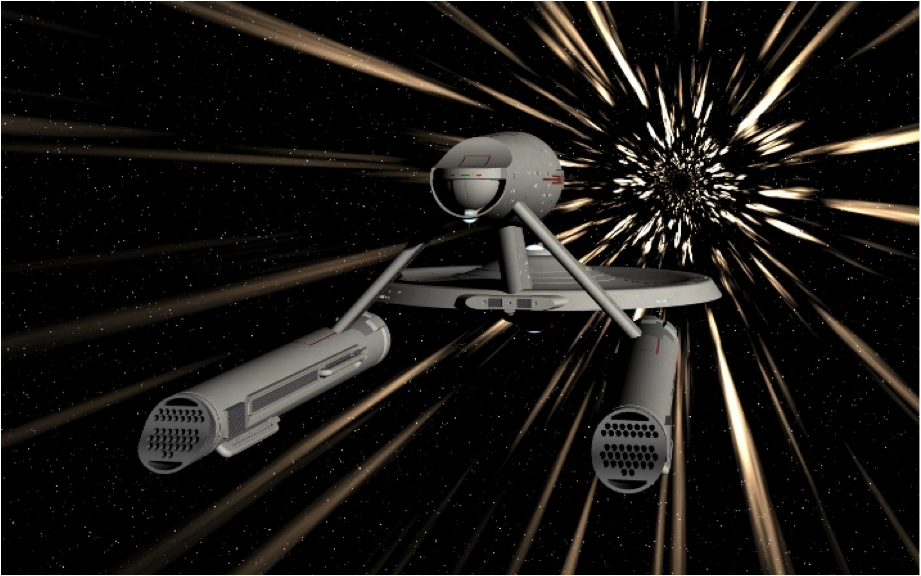 Taken from keywordsuggest.com
What are telomeres?
A telomere is a region of repetitive nucleotide sequences at each end of a chromosome, which protects the end of the chromosome from deterioration or from fusion with neighboring chromosomes. For vertebrates like us, the repetitive sequence of nucleotides in telomeres is TTAGGG, with the reverse complementary DNA strand being AATCCC, as depicted below. This sequence of TTAGGG is repeated ~2,500 times in humans.
During chromosome replication, the enzymes that duplicate DNA cannot continue their duplication all the way to the end of a chromosome, causing the end of the chromosome to be shortened in each replication. The telomeres are thus disposable "buffers" at the ends of chromosomes which are truncated during cell division, as depicted below.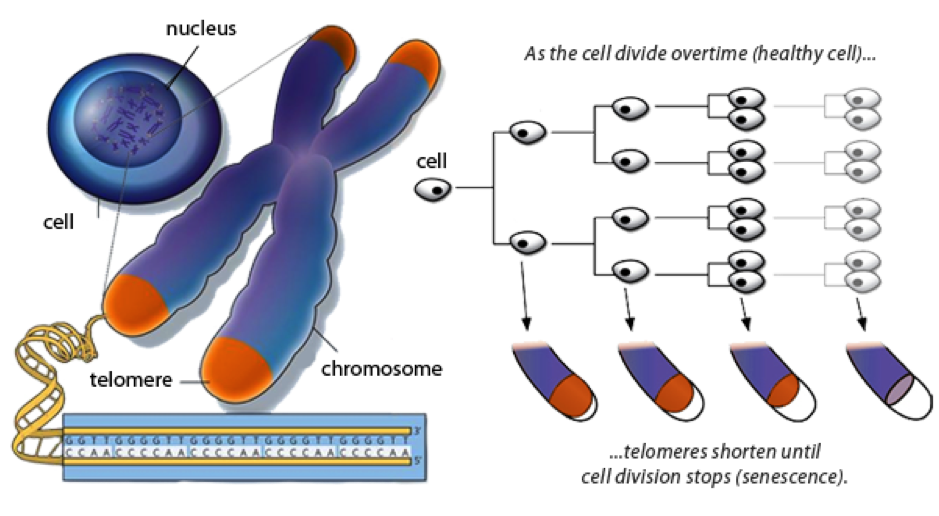 Taken from weeklyglobalresearch.wordpress.com
Telomers, however, are replenished by an enzyme named telomerase. This peculiar enzyme has an embedded RNA template and incorporates DNA nucleotides, as depicted below, and is therefore a special kind of reverse transcriptase. In people, it has been found that telomeres shorten with age in all replicating somatic cells that have been examined. In fact, average telomere length declines from about 11 kilobases at birth to less than 4 kilobases in old age, with the average rate of decline being greater in men than in women. Thus, telomere length can serve as a biomarker of a cell's biological (versus chronological) "age" or potential for further cell division.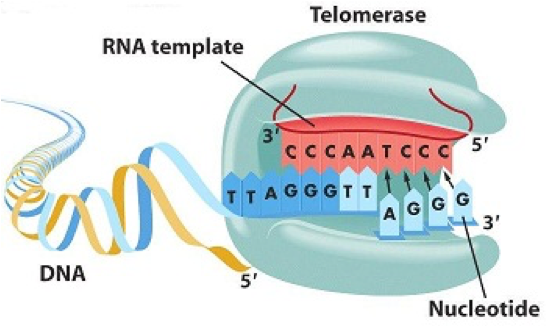 Taken from 2014hs.igem.org
'Houston, we have a problem'
This now famous phrase, which was used in the past tense by the crew of the Apollo 13 moon flight to report a major technical problem back to their Houston base, echoed in mind when I learned that space flight might lead to telomere shortening. Yikes! This molecular-level change could indeed be a serious problem, and was first suggested by findings from laboratory microgravity simulations reported in 2008 by Chinese researchers. Since it was known that space flight leads to bone loss, they cultured bone stem cells (BSCs) under simulated microgravity in a rotary cell culture system.
This led to significantly decreased activity of telomerase. It was postulated that reduced bone formation in space flight may partly be due to the altered potential differentiation of BSCs associated with telomerase activity, which plays a key role in regulating the lifespan of cell proliferation and differentiation. Additionally, telomerase activation or telomerase replacement may act as a potential countermeasure for microgravity-induced bone loss.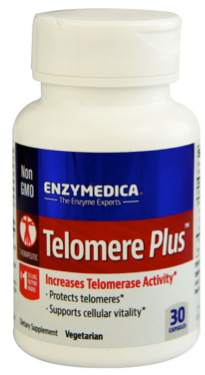 Taken from energeticnutrition.com
If you're thinking that these "potential countermeasures" are fanciful, you'd better think again. I recently came across a patent that was published last year on methods and compositions for increasing telomerase activity in cells, including pharmaceutical formulations. Moreover, there are now various commercially available supplements claiming to promote telomerase activity, such as that picture below. I hasten to add that I do not advocate use of any such supplement, and that interested readers should consult their primary care physician or certified nutritionist.
Twins and telomeres
Although identical twins are almost the same genetically, differences in environment, diet and other outside factors can affect their health in different ways. Consequently, identical twins have been enrolled in various studies that require deciphering effects due to "nature vs. nurture" (i.e. intrinsic genetics vs. external factors). Part of the Twins Study supported by NASA was aimed at examining the effects of space travel on one of a pair of twins: astronaut Scott Kelly, who stayed on the ISS for one year, while his twin brother, Mark, remained on Earth. In brief, Prof. Susan Bailey at Colorado State University is exploring differences between the twins' telomeres to determine if telomeres respond differently to spaceflight and then how such changes relate to the various medical endpoints studied by other Twins Study investigators.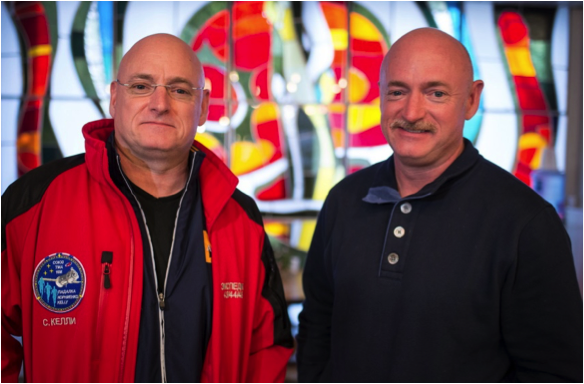 Scott Kelly (left) and his identical twin brother Mark in 2015 prior to Scott's one-year mission to the ISS. Taken from space.com
Preliminary research results for this part of the NASA Twins Study (reported at NASA's annual Investigators' Workshop earlier this year) were a quite surprising because they were opposite of what was expected, thus raising more questions than providing answers. It had been theorized that exposure to microgravity and stress during prolonged spaceflight would shorten telomeres, but instead Bailey's team found telomeres in Scott's white blood cells increased in length while in space! This finding was rationalized as being due to increased exercise and reduced caloric intake during the space mission. Upon his return to Earth, however, these telomeres began to shorten again.
This is yet another example of a biomedical phenomenon being far more complex that first theorized, and one that becomes less understood as more and more data are obtained. We'll all have to patiently stay tuned for how this telomeres-in-space story evolves. The good news, as I'll explore in the next and final section of this blog, is that there are exciting plans to use PCR to measure telomere length extraterrestrially! This is very "far out" science—pun intended.
Studying telomeres in space by PCR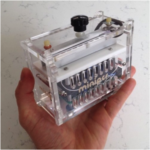 Taken from geeky-gadgets.com
The aforementioned Twins Study involved taking blood samples from an astronaut during spaceflight for lab analysis upon return to Earth. To obtain much more data, and to do so in real time while in space, NASA launched the Genes in Space-2 mission in April 2017. The goal is to determine whether astronauts aboard the ISS can analyze telomeres by PCR reactions in a small thermal cycling device (miniPCR system) and thus measure and monitor telomere changes during spaceflight.
In addition to testing the miniPCR system, the Genes in Space-2 mission has a secondary goal to test the feasibility of techniques used to measure telomere length. Currently, Single Telomere Length Analysis (STELA) is the only suitable technique for use on the ISS due to technical requirements. The Genes in Space-2 mission will also be testing the feasibility of a loop-mediated isothermal amplification (LAMP) colorimetric assay for detection of amplification aboard the ISS. Please stay tuned for updates on the outcome of these very important feasibility experiments.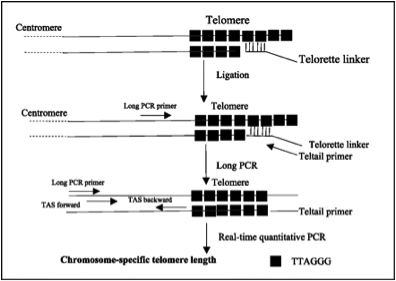 Scheme for STELA procedure. Taken from Xing et al. (2009)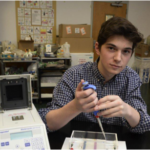 Julian Rubenfein. Taken from nydailynews.com
As a side note, the Genes in Space competition for 2017 selected this experiment on telomere amplification in microgravity from 375 submissions by nearly 850 students in grades 7 to 12 from across the US. This telomere experiment was proposed by 17-year old Julian Rubinfien from Stuyvesant High School in New York City, who is pictured below. I encourage you to read this interesting, although lengthy interview about his background and the experimental rationale. What's even more interesting is this short video of Julian at the launch and his comments—very impressive!
I strongly encourage you to read more about all the award-winning experiments in this exciting round of competition among young, highly motivated, advanced students, who I'm sure will be successful in whatever they do in the future.
Your thoughts or comments here are welcomed.
Postscript
Profs. Elizabeth Blackburn and Carol Greiner—who received a Nobel Prize in 2009 for seminal work on telomeres—co-founded Telome Health Inc. (THI) in 2010 to leverage the predictive power of telomere-length assays to help assess health status, disease and mortality risk, and response to specific therapies. THI subsequently announced TeloTest™ as a diagnostic test that measures average telomere length by qPCR. TeloTest™ was the first saliva-based telomere test available on the market, and is currently offered by a company named TeloYears.
The clinical utility of testing telomere length in a saliva-based test was recently reported from an independent, large clinical study sponsored jointly by Kaiser Permanente, University of California, San Francisco (UCSF), and National Institutes of Health. In the study, the average telomere length of 100,000 Kaiser patients was measured and analyzed relative to other health domains and clinical outcomes.
My recently obtained TeloTest™ results from TeloYears indicated that my biological age is 4 years older than my chronological age. Naturally, I was hoping to learn that my telomere-based age would be less than my actual age. Alas, the results are what they are, so I'll be following diet, exercise, sleep, and stress-management recommendations you can read about at TeloYears Learning Center.
SaveSave
SaveSaveSaveSave