"Honey I Shrunk the qPCR Machine" Tops Presentations

High School Student Wins Popular Vote for Best Poster

BioFire Defense FilmArray is More Interesting Exhibitor

Extra Bonus: Swimming with the Sharks
The 22nd International Molecular Medicine Tri-Conference—better known as Tri-Con—took place on Feb 15-20 in San Francisco, where I and 3,000+ other attendees from over 40 countries took part in a jam-packed agenda. In this blog I'll briefly share my top 3 picks—and an "extra bonus"—but first some insights into the challenges involved in navigating a large conference like this.
The first challenge was scoping out four simultaneously occurring "channels"—diagnostics, clinical, informatics, and cancer—to select as many interesting items as possible from all the presentations (500), panel discussions (30), posters (150), and free "lunch-nars." The new Tri-Con'15 app with a word and name-searchable agenda (including abstracts) made this easier than previous years. I was even able to put selected items into a calendar/to-do list with 15-min reminder alarms—very slick and convenient. Every big conference should have an app like this!
The second challenge came once I was physically onsite. It took a bit of effort to navigate from one room to another in the huge, multi-room Moscone Center without GPS guidance. I was also struggling to make it to the talks and events on time without getting hijacked by bumping into friends—which happened a lot.
The third and final challenge had to do with posters. Given all of the other exciting options during the conference, I really had to focus to stay on-task and make sure I was present at my poster at the specified times, yet alone try to get around to the other posters of interest. This was definitely not easy, since my poster entitled Pushing the Limits of PCR, qPCR and RT-PCR Using CleanAmp™ Hot Start dNTPs attracted a steady stream of interested visitors. But that's a great challenge to have, so I can't complain too much.
Anyway, and without further ado, here are my top 3 picks from the conference. There was an impressive amount of material to choose from and it wasn't easy to narrow it down, but I did finally decided to limit myself to one presentation, one poster, and one exhibit. Oh, and then I decided to sneak in an extra bonus, all of which I hope you find to be as interesting as I did. 
According to Kiwis, Size Does Matter
My personal photo of Dr. Jo-Ann Stanton holding a Freedom4 qPCR instrument that slides open to access four sample tubes.
My pick for the top presentation, which was actually also a poster and exhibit all-in-one, features the amazing achievement of a group of New Zealanders—that's right, Kiwis!—at the University of Otago. The team, led by Dr. Jo-Ann Stanton (shown right), recently introduced a first-of-a-kind handheld device for performing real-time or quantitative PCR (qPCR) in the field. This remarkable palm-size instrument—which makes me immediately think "Honey, I shrunk the qPCR machine!"—manages to squeeze a plastic four-well sample (10uL-40uL) strip into a thermal cycling block along with an optical system and still only measure a mere 4 x 8 inches. Not only is it's size impressive, but the instrument will reportedly perform conventional 40-cycle qPCR with SYBR green or FAM in about 50 minutes. To top it off, results are said to be comparable to "gold standard" laboratory systems. The device is being commercialized as the Freedom4 device by a New Zealand-based start-up company named Ubiquitome, which values this little cutie at $25,000 according to a Feb 25, 2015 press release.
In her talk entitled, A Handheld qPCR Device for Use in the Field, Dr. Stanton said the Freedom4 was tested using World Health Organization and International Accreditation New Zealand assays for E. coli O157, influenza, adenovirus, enterovirus, norovirus, and astrovirus. She added that, in side-by-side "benchmarking" tests with clinical samples using much larger laboratory-based instruments—namely the Roche LightCycler® and Stratagene (now Agilent) Mx3000P systems—the Freedom4 was comparable to, and in one case better than, in-laboratory technology. These tests included measures for sensitivity, precision, and inter-assay variability.
What's really cool with this thermal cycler—pun intended—is that the user interacts with the device via either a tethered connection to a laptop computer or wirelessly to a smart phone. It also runs on batteries!
Dr. Stanton concluded by saying that, with the correct assay panel, this new technology can be easily carried in a backpack, together with portable sample prep kits, to determine the disease-causing species or reveal antibiotic resistance, all in real time either "cow-side" or in the remote clinic. She also envisages forensic applications.
Teenage Attendee is the Overwhelming Favorite for Top Poster
In addition to the great scheduling feature mentioned above, another cool thing about the Tri-Con'15 app was allowing attendees to vote for the best poster. The winner—who certainly got my vote—was S. Pranav of Monta Vista High School, whose poster was entitled Integrative Network Analysis of Epigenetic and Genomic Data for Colorectal Cancer. Remarkably, it was submitted by a high school-level attendee. Although I was unable to catch him/her for a picture and quote, here is my shortened synopsis of the conference abstract: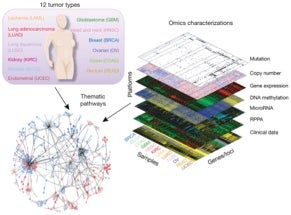 The Cancer Genome Atlas Project (taken from bg.upf.edu).
In this work we propose an integrative framework to identify epigenetic and genomic drivers as well as deregulated pathways and crosstalk in colorectal cancer using a Bayesian network model derived from The Cancer Genome Atlas (TCGA) data.

We first define a set of seed genes implicated for colorectal cancer in literature and enrich them using prior knowledge of pathways connectivity. We derive a unified Boolean signaling network of all major KEGG signaling pathways and use a novel metric based on node degree and pathway coverage for feature selection enrichment.

We found that DNA methylation is a major factor in promoting colorectal carcinogenesis. In particular hypo-methylation of anti-apoptosis genes BCL2, BCL2L1 and BCL2L11 and hyper-methylation of pro-apoptosis genes BAK1, BAX and BID seem to throw apoptosis machinery into disarray in colorectal tumors. Other hypo-methylated oncogenes include AKT1, PIK3CA, BRAF, KRAS and APC.

The constructed Bayesian network also points to new epigenetic and genetic pathways, which could give further insight into molecular basis of colorectal cancer.
I'm sure you'll agree with me and the other attendee voters that this is a VERY impressive study for a high school student, who will undoubtedly go on to make further significant scientific contributions.
New Company with Old Roots Steals Spotlight at Exhibits
Being somewhat of a technophile, making this pick was a toughie because of all the really cool stuff that was exhibited. After taking a few deep breaths and letting my mind wander over what I saw, my pick went to BioFire Defense. Here's why.
Aside from having an interesting founder/instrumentation/company evolutionary history that dates back to Carl Wittwer and Idaho Technology in the 1990s and merging with bioMérieux in 2014, BioFire Defense is a fascinating company that, according to their website, 'is committed to making the world a healthier and safer place.' The company provides integrated products and systems to the biodefense and first responder community. These products and systems are relatively new and certainly very important market segments with rapid growth potential. The very slick, key enabling-technology—in my opinion—is the FilmArray system pictured below.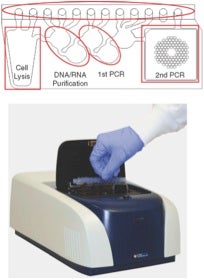 BioFire FilmAssay system (taken from microbiology.publish.csiro.au)
The FilmArray module shown right in a simplified cartoon is actually an amazingly clever and technically sophisticated fluidic system that is about as turnkey of an instrument as I've ever seen. A minimally instructed operator need only add the sample, for example blood, in one port, and then add buffer in another port before pushing the start button. From then on, automated cell lysis, DNA/RNA extraction, and PCR lead to the final yes/no result, all without any user intervention or data analysis by a trained expert.
In addition to this outstanding instrument, the company's assays are quite notable. Earlier this month, BioFire's FilmArray® Ebola test was awarded the Frost & Sullivan's 2014 Global New Product Innovation Award. Given the fervent need for innovation in the field of biodefense, I believe BioFire is a company to keep on eye on.
Bonus Highlights
The inaugural Swimming with the Sharks sessions, which were a take on the TV series Shark Tank that I happen to like, involved twelve start-up companies seeking funding via 5-minute value-proposition "pitches" given to a panel of industry leaders (aka judges). Criteria for judging were Clinical Utility, Investor Readiness, and Healthcare Impact.
The top place winner would receive recognition as the "2015 Tri-Con Most Promising Company", and services valued up to $15,000 from Sales Performance International (SPI) for personalized consulting. The second place winner would receive $5,000 in SPI services.
The twelve competing companies were:
Magnetic Insight
HeatSeq
Beacon Biomedical
Nanovega
Solano Pharmaceuticals
oncgnostics
DxUpClose
Fluoresentric
FibroTx
Molecular Assemblies
CrackerBio
Veramarx
First place went to Fluoresentric, pitched by William Olsen, who promised investors a radically "faster, better, cheaper" version of PCR named Extreme Chain Reaction (XCR™), which would operate as a plug-in to a smart phone that provides power and allows both acquisition and processing. Cost of parts for this apparently remarkable gizmo were said to be less than $200. Some data was shown, but not in detail. How this "faster and better" variant of PCR is actually achieved or differs from PCR were not described. So—in my opinion—the X in XCR™ represents a mysterious X-factor to be revealed in the future.
Second place went to Molecular Assemblies, pitched by Curt Becker, Founder/CEO, who promised investors a totally new method for making DNA. This method uses commercially available, naturally occurring terminal deoxynucleotide transferase (TdT) together with proprietary, synthetic reversible-terminator A, G, C and T monomers to assemble long fragments of high quality DNA. Becker claimed this is "the way nature makes DNA" and is thus differentiated from conventional phosphoramidite chemistry. The method is further said to be a "cost-effective sustainable approach that uses nature's enzymes to replace the chemicals—thus Introducing Eco-Genes™—a new generation for 'writing' genomes and the next big leap in genomics."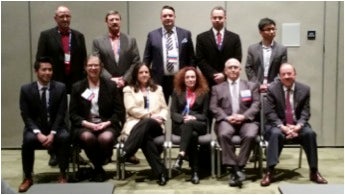 My personal photo of the twelve startup company representatives taken after their Swimming with the Sharks.
Wow, all great stuff at Tri-Con 2015!
As usual, your comments are welcomed.