An mRNA Vaccine Targeting a Bacterial Protein Protects Mice Against Lyme Disease
Lyme Disease, a condition transmitted through the bite of a tick carrying the bacterium Borrelia burgdorferi, is the most common vector-borne infection in the United States with an estimated incidence of 476,000 cases annually. One reason for its prevalence is the lack of an FDA-approved vaccine. However, the discovery that vaccination with mRNAs for tick salivary proteins protects guinea pigs against B. burgdorferi infection recently brought such a vaccine one step closer. Now, researchers at the University of Pennsylvania and Yale University School of Medicine have adapted the mRNA with lipid nanoparticle (LNP) methodology to target outer surface protein A (OspA), an abundant and highly conserved B. burgdorferi lipoprotein. Their data, published in Molecular Therapy, show that just a single dose of the OspA mRNA vaccine induces antigen-specific cellular and humoral immune responses in mice to protect against bacterial challenge, an approach that could potentially translate into humans.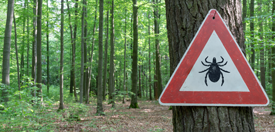 OspA mRNA-LNP vaccination elicits antigen-specific cellular responses in mice
The mRNAs used in this study were generated from codon-optimized OspA and firefly luciferase (Luc) gene-containing plasmids. Each mRNA included m1Ψ-5'-triphosphate in place of uridine-5'-triphosphate (UTP) and was capped with a CleanCap® cap analog before being purified and encapsulated in LNPs for immunization purposes. Following single-dose administration of either OspA or Luc mRNA-LNP to mice via intramuscular immunization, the splenocytes were harvested for evaluation of OspA-specific CD4+ and CD8+ T cell responses by flow cytometry. In parallel, similar measurements were performed using the splenocytes of mice which had received a single dose of alum-adjuvanted recombinant OspA (rOspA) protein. The OspA mRNA-LNP vaccine was found to elicit significantly higher levels of antigen-specific CD4+ and CD8+ T cells expressing Th1-associated cytokines (IFN-γ, IL-2, and TNF-α) than either Luc mRNA-LNP or rOspA + alum, prompting its further investigation.
A single dose of OspA mRNA-LNP induces immunological memory
To determine whether OspA mRNA-LNP vaccination induces immunological memory in mice, the spleens and bone marrow of immunized animals were collected for flow cytometric measurement of antigen-specific CD38+ GL7– memory B cells and B220- CD138+ long-lived plasma cells. Both populations were found to exhibit higher frequencies in mice immunized with OspA mRNA-LNPs compared to those immunized with Luc mRNA-LNP or rOspA + alum. In addition, ELISpot analysis
showed mice immunized with OspA mRNA-LNP to display a broad antibody response with detectable levels of IgG1, IgG2a, and IgG2b. These data confirm that a single vaccination with OspA mRNA-LNP elicits murine memory B cell and long-lived plasma cell responses.
OspA mRNA-LNP protects mice from challenge with B. burgdorferi
The protective efficacy of OspA mRNA-LNP was assessed: single-dose vaccinated mice were subcutaneously challenged with low-passage B. burgdorferi spirochetes before harvesting various tissues for qPCR-based measurement of the Borrelia-specific gene, flagellin (flaB). Mice were considered protected when the flaB levels in all of the tissues analyzed were less than the average plus standard deviation of the flaB levels in naive mice. Critically, 8 out of 10 OspA mRNA-LNP mice were protected, compared to 0 out of 10 Luc mRNA-LNP mice and just 5 out of 10 rOspA+ alum mice, suggesting vaccination with OspA mRNA-LNP provides better defense against B. burgdorferi infection than traditional protein-based vaccination.
Future perspectives
As well as demonstrating that vaccination with OspA mRNA-LNP is a viable approach to protect against Lyme Disease, this study represents one of the first uses of an mRNA vaccine to target a non-viral pathogen. With further development of OspA mRNA-LNP, and adaptation of the mRNA-LNP technology to encompass other bacteria and parasites, the future for this novel class of vaccines continues to look extremely promising.
Featured products: CleanCap® capping technology and m1Ψ-5'-triphosphate
Article reference: Pine M, Arora G, Hart TM, et al. Development of an mRNA-lipid nanoparticle vaccine against Lyme disease. Mol Ther. 2023;S1525-0016(23)00428-8.