mRNA vaccines offer protection against multidrug-resistant bacteria
Pseudomonas aeruginosa (PA) is a prevalent opportunistic pathogen, responsible for around 10% of all hospital-acquired infections. Immunocompromised patients and individuals with cystic fibrosis or burn injuries are at particular risk from PA infection, which can manifest as pneumonia, wound site infections, urinary tract infections or bacteremia. The multidrug-resistance rate of PA makes its clinical management challenging and highlights the urgent need for alternative treatments to conventional antibiotics. To address this requirement, researchers at the Southern University of Science and Technology in Shenzhen, China, recently developed two mRNA vaccines encoding highly conserved PA proteins. When the mRNA vaccines were administered to mouse models of burn wound and systemic infection, they elicited strong immune responses and improved survival rates, with outcomes being especially favorable when the two vaccines were delivered in combination. The results of this study, published in npj Vaccines, suggest mRNA vaccines to be promising candidates for tackling the growing global threat of infection with PA and other multidrug-resistant bacteria.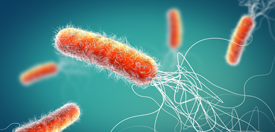 Vaccine design
One of the mRNA vaccines used in this study encoded the PA V-antigen (PcrV), which is required to form pores in the host cell membrane and translocate effector toxins into cells. The other encoded a fusion protein (OprF-I) consisting of two highly conserved PA outer membrane proteins, OprF and OprI. In vitro mRNA synthesis was performed via T7 polymerase mediated DNA transcription, using N1-methyl-pseudouridine as a substitute for uridine and TriLink's CleanCap® Reagent AG (3' OMe) for co-transcriptional capping. The resultant mRNAs were encapsulated into lipid nanoparticles with a microfluidic system.
Strong antigen-specific immune responses
Following immunization of BALB/c mice with either the PcrV mRNA vaccine or the OprF-I mRNA vaccine, sera were analyzed by ELISA for antigen-specific antibodies. Key findings included the observation that the PcrV mRNA vaccine elicited significantly higher IgG titers than the OprF-I mRNA vaccine, and the discovery that both vaccines produced a mixed Th1/Th2 or slightly Th1-biased immune response (based on total IgG1 and IgG2a levels). In addition, the induced antibodies were shown to exhibit bactericidal activity against four different PA strains under complement-mediated conditions in vitro (opsonophagocytic killing assay).
Protective efficacy in vivo
To determine whether mRNA vaccination could provide protective efficacy in vivo, Wang et al. challenged a mouse model of burn wound with either PAO1 (a standard PA strain) or PA257 (a PA strain with high virulence) and monitored survival. While all the mice in the control group died within two days of PA challenge, 100% of animals immunized with either PcrV mRNA or OprF-I mRNA survived a 10 x LD50 dose of each of the PA strains. Increasing the challenging dose of PAO1 from 10 x LD50 to 50 x LD50 showed PcrV mRNA to have greater protective efficacy than OprF-I mRNA. Similar studies performed in a mouse model of systemic infection showed survival rates to be improved by administering the PcrV mRNA and OprF-I mRNA vaccines in combination, as well as demonstrated mRNA vaccination to achieve superior survival rates compared to vaccination with conventional protein antigens.
Looking ahead
Multidrug-resistant bacteria such as PA are a growing global concern, and it is essential that novel protection strategies be developed. This study represents the first published attempt to apply mRNA vaccine technology for PA and could potentially be adapted for other infectious pathogens.
Featured product: CleanCap® Reagent AG (3' OMe)
Article reference: Wang X, Liu C, Rcheulishvili N, et al. Strong immune responses and protection of PcrV and OprF-I mRNA vaccine candidates against Pseudomonas aeruginosa. npj Vaccines 8, 76 (2023). https://doi.org/10.1038/s41541-023-00672-4