Analytical capabilities to empower the success of your mRNA program
To support the rapidly expanding mRNA vaccine and therapeutic pipeline to meet evolving regulatory demands, TriLink has established in-house analytical capabilities and a team of recognized experts in nucleic acid characterization and analysis. The analytical services team offers comprehensive method development for construct-specific assays to serve your program's unique needs. Our analytical and QC testing capabilities for mRNA programs include identity, purity, impurity profiling, characterization, and safety testing.
mRNA analytical development and Quality Control expertise
Analytical development and Quality Control teams provide full spectrum services in analytical development, method validation, release testing, and stability studies.

Analytical development and Quality Control teams with extensive expertise in nucleic acid characterization and analysis.

Comprehensive in-house testing and Quality Control assay capabilities.
Assays are developed specifically for client programs, providing high-level of confidence in nucleic acid product quality.
Comprehensive analytical methods for mRNA critical quality attributes
Our in-house Analytical Services provides clients access to a comprehensive suite of analytical methods to measure mRNA critical quality attributes without having to coordinate outsourcing to multiple laboratories.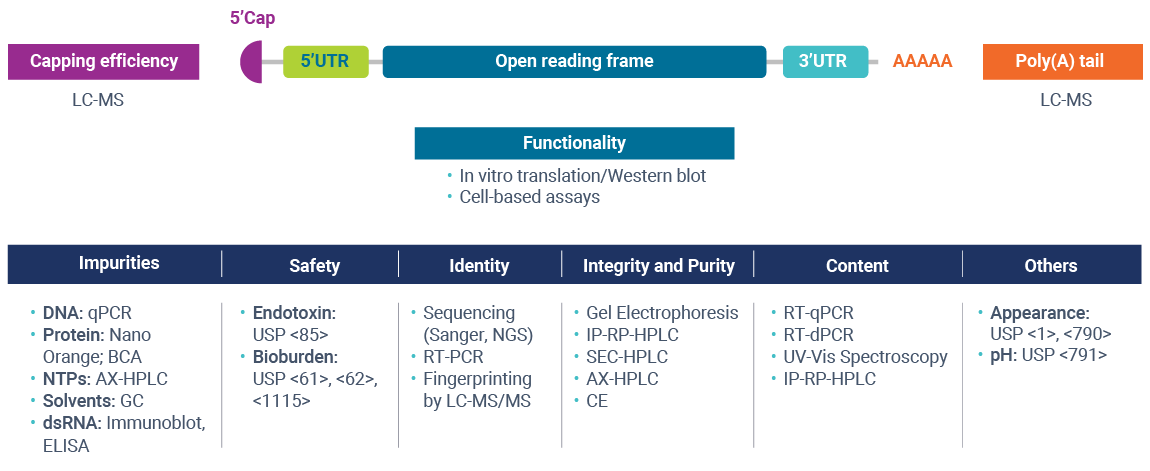 Facility designed for nucleic acid characterization and analysis
Expanded Analytical Services and Quality Control laboratory with c

omprehensive in-house testing capabilities 

State-of-the-art analytical instrumentation

​

GMP and CFR Part 11 compliant

​

In-house method development, qualification, and validation

Stability studies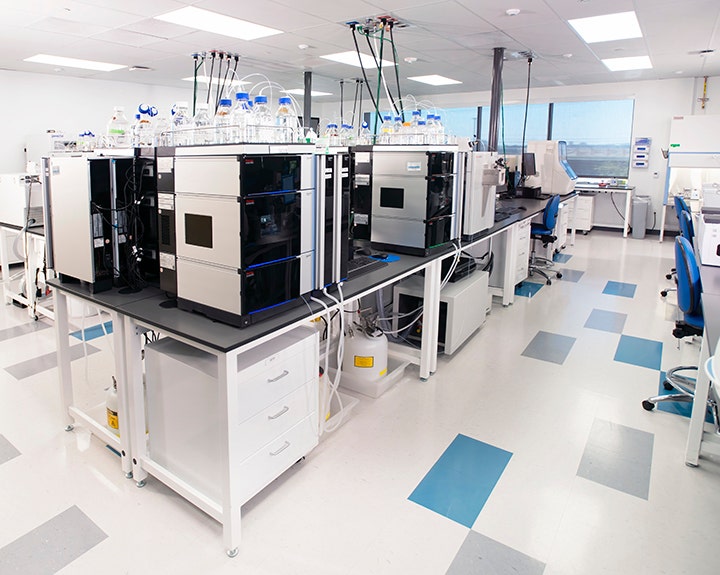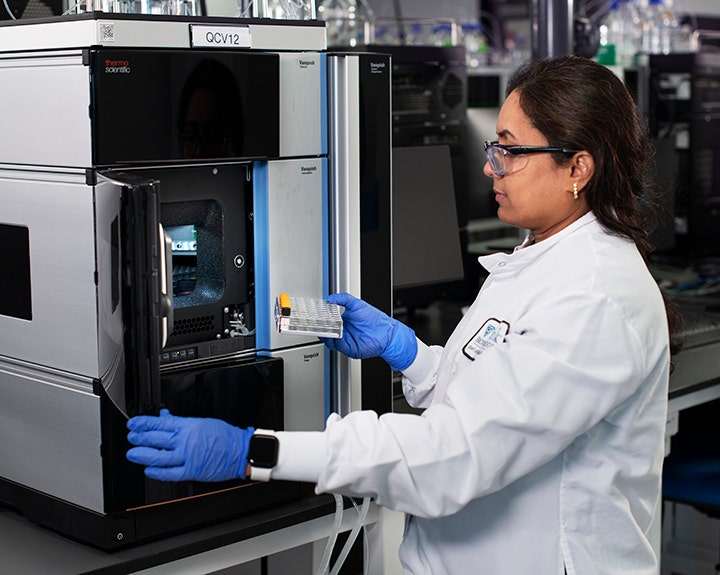 Extensive instrumentation for a broad range of analytical methods
HPLC and UHPLC systems with various types of detectors
High-resolution Mass Spectrometers
Sanger sequencer machine
Capillary electrophoresis instruments
qPCR machines
Gas chromatography system
FTIR spectrometer
UV-Vis and fluorescence spectrophotometers
Chemiluminescence and fluorescence imaging systems
Analytical methods process overview
Our Analytical Development team creates custom assays for specific client programs as necessary.
The first step is to evaluate the plasmid DNA template or mRNA construct to identify any Critical Quality Attributes (CQAs) that might necessitate further method development. If the construct requires specialized methods, the team proceeds with method development and optimization. Once the method has been established and validated by the Method Transfer team, it is transferred on to our Quality Control team for implementation and monitoring.
<!ENTITY ns_ai "http://ns.adobe.com/AdobeIllustrator/10.0/"><!ENTITY ns_graphs "http://ns.adobe.com/Graphs/1.0/"><!ENTITY ns_vars "http://ns.adobe.com/Variables/1.0/"><!ENTITY ns_imrep "http://ns.adobe.com/ImageReplacement/1.0/"><!ENTITY ns_sfw "http://ns.adobe.com/SaveForWeb/1.0/"><!ENTITY ns_custom "http://ns.adobe.com/GenericCustomNamespace/1.0/"><!ENTITY ns_adobe_xpath "http://ns.adobe.com/XPath/1.0/">
Related products & services
mRNA synthesis for research and discovery
Leverage TriLink's catalog mRNA, custom mRNA synthesis, proprietary CleanCap® technology, and NTP portfolios for your research and discovery projects.

Plasmid-DNA-to-mRNA pathway
To shorten timelines and simplify supply chains, integrate phase-appropriate, high-quality plasmid DNA templates into your mRNA manufacturing process with TriLink's plasmid DNA-to-mRNA pathway.

Our scalable manufacturing services can support your program as you progress to preclinical through clinical development.
Let's discuss your needs today!
Contact our team of experts to discuss your mRNA manufacturing and analytical characterization needs.
Plasmid Manufacturing Brochure Download